Woman Of Heart And Mind
Guitar tablature transcribed by Mark Domyancich and Sue McNamara
Tuning: BF#C#EBD# (other transcriptions in this same tuning)
"Joni" Tuning: B77374
Tuning pattern: x77374 (others in this same pattern)

Download/View Transcription (PDF)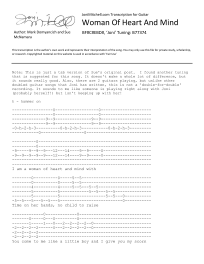 Author Notes:
Note: This is just a tab version of Sue's original post. I found another tuning
that is suggested for this song. It doesn't make a whole lot of difference, but
it sounds really good. Also, there are 2 guitars playing, but unlike other
doubled guitar songs that Joni has written, this is not a 'double-for-double'
recording. It sounds to me like someone is playing right along with Joni
(Probably herself!) but isn't keeping up with her!