Harlem In Havana
Guitar tablature transcribed by Marian Russell
Tuning: DADFAD (other transcriptions in this same tuning)
"Joni" Tuning: D75345
Tuning pattern: x75345 (others in this same pattern)
Capo on fret 2

Download/View Transcription (PDF)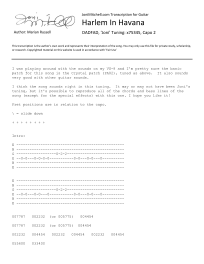 Author Notes:
I was playing around with the sounds on my VG-8 and I'm pretty sure the basic patch for this song is the
Crystal patch (PA82), tuned as above. It also sounds very good with other guitar sounds.

I think the song sounds right in this tuning. It may or may not have been Joni's tuning, but it's possible to
reproduce all of the chords and bass lines of the song (except for the special effects) with this one. I hope
you like it!