Love Puts On A New Face
Guitar chords transcribed by Marian Russell
Tuning: CGDEGC (other transcriptions in this same tuning)
"Joni" Tuning: C77235
Tuning pattern: x77235 (others in this same pattern)

Download/View Transcription (PDF)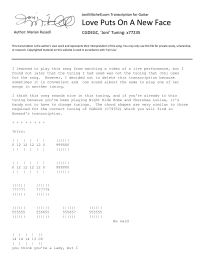 Author Notes:
I learned to play this song from watching a video of a live performance, but I found out later that the
tuning I had used was not the tuning that Joni uses for the song. However, I decided not to delete this
transcription because sometimes it is convenient and can sound almost the same to play one of her songs
in another tuning.

I think this song sounds nice in this tuning, and if you're already in this tuning because you've been playing
Night Ride Home and Cherokee Louise, it's handy not to have to change tunings. The chord shapes are
very similar to those required for the correct tuning of CGEGCD (C79352) which you will find in Howard's
transcription.