Ray's Dad's Cadillac
Guitar tablature transcribed by Howard Wright
Tuning: DACGAD (other transcriptions in this same tuning)
"Joni" Tuning: D73725
Tuning pattern: x73725 (others in this same pattern)

Download/View Transcription (PDF)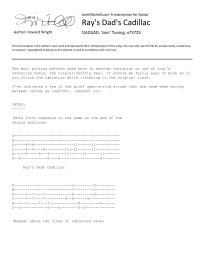 Author Notes:
The main picking pattern used here is another variation on one of Joni's favourite feels, the triplet/shuffle
feel. It should be fairly easy to pick up if you follow the tablature while listening to the original track.

I've indicated a few of the brief open-string strums that are used when moving between chords as
(xx0000), (xxxx00) etc.