Come To The Sunshine
Guitar tablature transcribed by Sue McNamara
Tuning: DADF#AD (other transcriptions in this same tuning)
"Joni" Tuning: D75435
Tuning pattern: x75435 (others in this same pattern)
Capo on fret 1

Download/View Transcription (PDF)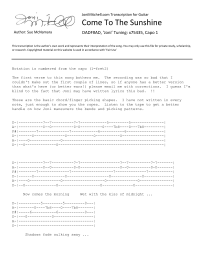 Author Notes:
The first verse to this song bothers me. The recording was so bad that I couldn't make out the first couple
of lines, so if anyone has a better version of the lyrics than what's here (or better ears!) please email me
with corrections. I guess I'm blind to the fact that Joni may have written lyrics this bad. !!

These are the basic chord/finger picking shapes. I have not written in every note, just enough to show you
the ropes. Listen to the tape to get a better handle on how Joni maneuvers the bends and picking patterns.