The Last Time I Saw Richard
Guitar chords transcribed by John Uriel
Tuning: EADGBE (other transcriptions in this same tuning)
"Joni" Tuning: E55545
Tuning pattern: x55545 (others in this same pattern)

Download/View Transcription (PDF)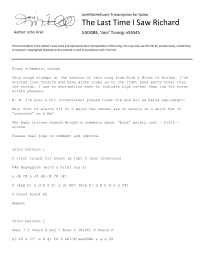 Author Notes:
Piano schematic chords

Very rough attempt at the version of this song from Blue & Miles of Aisles. I've started from scratch and
have given clues as to the right hand parts other than the chords. I use an exclamation mark to indicate
high rather than low for notes within phrases.

N. B. I'm also a bit inconsistent please treat G/A and A11 as being equivalent.

Key: Sort of starts off in D major the verses are in mainly in G major but it "resolves" on a Bm7

The Bass follows Howard Wright's comments about "Blue" mainly root - fifth - octave

Please feel free to comment and improve.