Morning Morgantown
Guitar chords transcribed by Mia Ortlieb
Tuning: DGDGBD (other transcriptions in this same tuning)
"Joni" Tuning: D57543
Tuning pattern: x57543 (others in this same pattern)
Capo on fret 2

Download/View Transcription (PDF)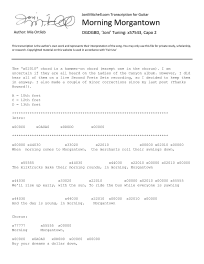 Author Notes:
The "x02010" chord is a hammer-on chord (except one in the chorus). I am uncertain if they are all heard
on the Ladies of the Canyon album. However, I did hear all of them on a live Second Frets Sets recording,
so I decided to keep them in anyway. I also made a couple of minor corrections since my last post (Thanks
Howard!).