A Melody In Your Name
Guitar tablature transcribed by Mark Domyancich
Tuning: BbFBbFBbD (other transcriptions in this same tuning)
"Joni" Tuning: Bb75754
Tuning pattern: x75754 (others in this same pattern)
Capo on fret 5

Download/View Transcription (PDF)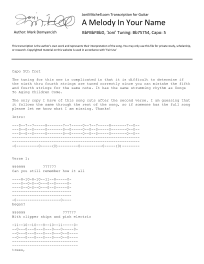 Author Notes:
The tuning for this one is complicated in that it is difficult to determine if
the sixth thru fourth strings are tuned correctly since you can mistake the fifth
and fourth strings for the same note. It has the same strumming rhythm as Songs
To Aging Children Come.

The only copy I have of this song cuts after the second verse. I am guessing that
it follows the same through the rest of the song, so if someone has the full song
please let me know what I am missing. Thanks!