I Think I Understand
Guitar tablature transcribed by Tracy Wundrock and Marian Russell
Tuning: DADGBE (other transcriptions in this same tuning)
"Joni" Tuning: D75545
Tuning pattern: x75545 (others in this same pattern)

Download/View Transcription (PDF)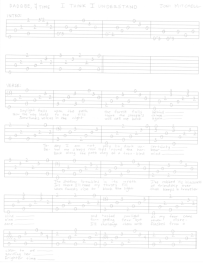 Author Notes:
This is a full fingerstyle arrangement based on the introduction and chords from Marian Russell's transcription.

This arrangement uses drop D tuning (DADGBE) and is played in 4/4 time. Most of the notes are eighth notes with a
few measures ending in quarter notes instead (if a measure appears to be missing half a beat, hold the last note
shown for a whole beat). The thumb plays all the notes on strings 6, 5, and 4, and fingers i, m, and a play the notes
on strings 3, 2, and 1 respectively. Hammer-ons and pull-offs are indicated by a curved line connecting two notes.
Notes in parentheses are optional.

This is not a note-for-note transcription, but the arrangement captures the essence of what Joni plays on the
recorded version.