Download/View Transcription (PDF)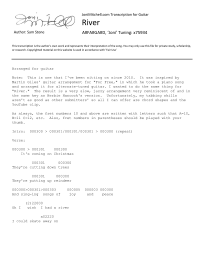 Author Notes:
Note: This is one that I've been sitting on since 2010. It was inspired by Martin Giles' guitar arrangement for "For Free," in which he took a piano song and arranged it for alternate-tuned guitar. I wanted to do the same thing for "River." The result is a very slow, jazzy arrangement very reminiscent
of and in the same key as Herbie Hancock's version. Unfortunately, my tabbing skills aren't as good as other submitters' so all I can offer are chord shapes and the YouTube clip.

As always, the fret numbers 10 and above are written with letters such that A=10, B=11 C=12, etc. Also, fret numbers in parentheses should be played with your thumb.