Chinese Café
Guitar chords transcribed by Sam Stone
Tuning: CGDFCE (other transcriptions in this same tuning)
"Joni" Tuning: C77374
Tuning pattern: x77374 (others in this same pattern)
Capo on fret 2

Download/View Transcription (PDF)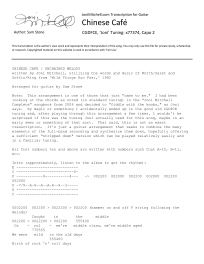 Author Notes:
written by Joni Mitchell, utilizing the words and music of North/Zaret and Goffin/King from 'Wild Things Run Fast,' 1982

Note: This arrangement is one of those that just "came to me." I had been
looking at the chords as noted (in standard tuning) in the "Joni Mitchell
Complete" songbook from 2006 and decided to "fiddle with the knobs," as Joni
says. By magic or something I accidentally ended up in the good old CGDFCE
tuning and, after playing through this arrangement a few times, I wouldn't be surprised if this was the tuning Joni actually used for this song, maybe in an early demo or something of that sort. That said, this is not an exact
transcription. It's just a guitar arrangement that seeks to combine the many elements of the full-band recording and synthesize them down, hopefully offering a sufficient "stripped down" version which can be played relatively easily and in a familiar tuning.