Play Little David
Chord chart with fingering transcribed by Sue McNamara

Download/View Transcription (PDF)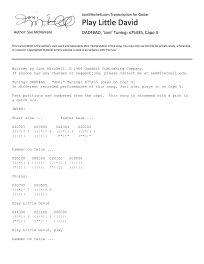 Author Notes:
Written by Joni Mitchell. © 1966 Gandalf Publishing Company.

If anyone has any changes or suggestions, please contact me at sem8@cornell.edu.

Tuning: DADF#AD "Joni" Tuning: D75435 [Capo on fret 4]
In different recorded performances of this song, Joni also plays it on Capo 5.

Fret positions are numbered from the capo. This song is strummed with a pick in a quick 4/4.