Dark as a Dungeon
Baritone Ukulele Tablature transcribed by Howard Wright

Download/View Transcription (PDF)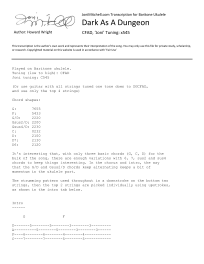 Author Notes:
If you don't have a baritone ukulele, you can play this on guitar with all strings tuned one tone down to DGCFAD, and just use the top 4 strings.

Chord shapes:

G: 7655
F: 5433
G/D: 2220
Gsus2/D: 2200
Gsus4/D: 2230
C: 0232
D: 2100
D7: 2130
D6: 2120

It's interesting that, with only three basic chords (G, C, D) for the
bulk of the song, there are enough variations with 6, 7, sus2 and sus4
chords to keep things interesting. In the chorus and intro, the way
that the G/D and Gsus2/D chords keep alternating keeps a bit of
momentum in the ukulele part.

The strumming pattern used throughout is a downstroke on the bottom two
strings, then the top 2 strings are picked individually using upstrokes,
as shown in the intro tab.