All I Want
Guitar tablature & notation transcribed by Laura Ros
Tuning: EADGBE (other transcriptions in this same tuning)
"Joni" Tuning: E55545
Tuning pattern: x55545 (others in this same pattern)

Download/View Transcription (PDF)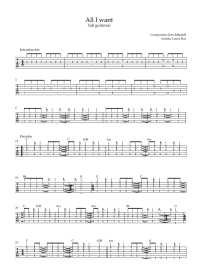 Author Notes:
JoniMitchell.com Transcription for Guitar
All I Want

Tuning: EADGBE, 'Joni' Tuning: x55545
Author: Laura Ros - lauritaros@hotmail.com

Laura has transcribed three versions of All I Want for guitar in standard tuning: #1 is just tablature; #2 is just notation, and #3 is both. They are enclosed in one PDF. Check out the youtube demonstration to help you get how she plays this song.

You can also check out Laura playing this song on Spotify.