Joanna Eden Celebrates Joni Mitchell, Burbage Arts Festival, Leics UK, May 14
Posted February 28, 2022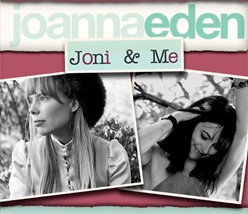 Those of you with longer memories (that pesky pandemic!) will fondly remember singer and songwriter Joanna Eden and composer and pianist Chris Ignham's last visit to BCAF a few years back, with their wonderful tribute to Embraceable Ella Fitzgerald. And even further back, their evocative Jazz at the Movies. Truly, high-class acts.
So, we are beyond delighted to welcome them back, to present a breathtaking show in celebration of Joanna's hero, Joni Mitchell.
With a world-class band featuring pianist/guitarist Chris Ingham and Andres Lafone on bass/guitar, Joanna lovingly recreates Joni's masterpieces; taking the audience on a journey through the myriad of ideas, textures, themes, voices and emotions of Mitchell's canon... and tracing Joni's influences in some of her own songs. Expect to catch glimpses of a singer and her band in ecstasy! More information here.