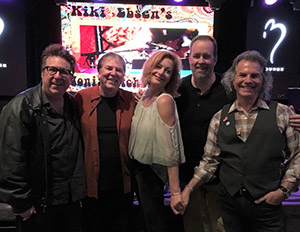 Join us for the week of the 50th anniversary of Woodstock, at Laguna's Festival of the Arts/Pageant of the Masters, as Kiki Ebsen's Joni Mitchell Project returns for their fourth appearance at the Festival of the Arts in Laguna Beach. In addition to solo favorites "Both Sides Now," "Case of You," "Coyote," and "Chelsea Morning," you'll enjoy her band arrangements of "Woodstock," "Big Yellow Taxi," and "Free Man in Paris," "Blonde in the Bleachers," "Twisted," "Sex Kills," "Dry Cleaners from Des Moines," and others in selections from more than 10 of Joni's albums.
For four years now, singer/songwriter Kiki Ebsen has enjoyed bringing the diverse catalog of Joni Mitchell's songs to those who resonate in the elegant music and profound lyrics. Kiki's Joni Mitchell Project has received wide acclaim in performances from intimate jazz clubs to outdoor festivals. Kiki recently released her 7th CD, "Cool Songs, Vol. 2: The Music of Joni Mitchell," noting, "Joni Mitchell is a brave and fearless explorer of the heart and soul. Her music continues to inspire others."
Kiki Ebsen and her band offer original interpretations and styles to Joni's works. Featuring: Kiki Ebsen, vocals/keys/guitar; Grant Geissman, guitar; Terry Wollman, guitar; Steve Lawrence, bass; and Bernie Dressel, drums.
Tickets are $20. Music begins at 5:30 pm. More information here.