Both Sides Now with Hannah Reimann, NYC, November 7
Posted September 07, 2022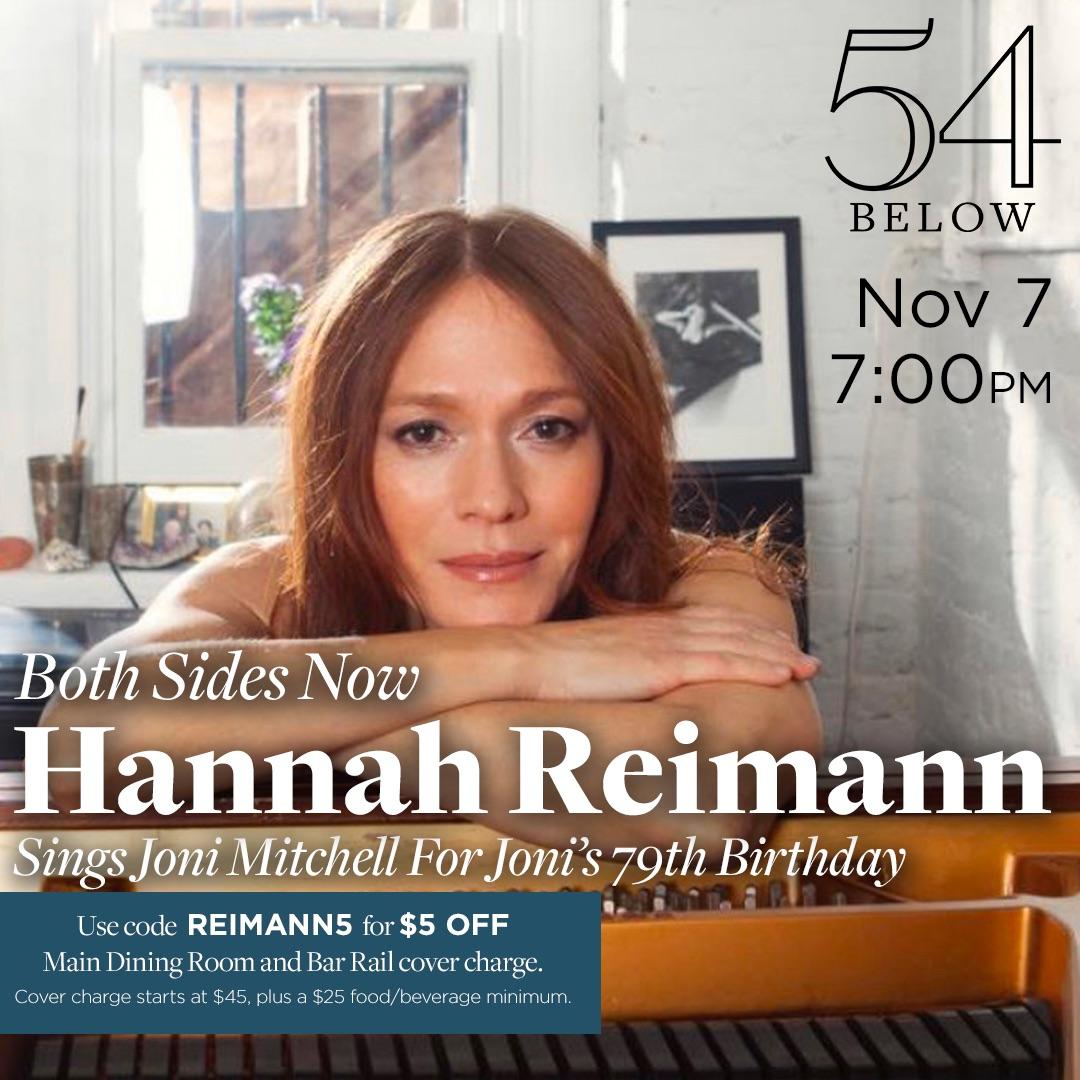 Hannah Reimann (vocals, piano & dulcimer) and guitarist Michele Temple are celebrating Joni Mitchell's 79th birthday at 54 Below! In addition, it's also their 10-year anniversary of performing dozens of Joni's songs, which they're honoring in an evening presenting many of her best-loved ballads, pop hits and favorites that defy genre from her first seven albums, Song to a Seagull, Clouds, Ladies of the Canyon, Blue, For the Roses, Court and Spark, and The Hissing of Summer Lawns, plus some surprises.
Lauded as one of the first and greatest singer-songwriters since the 1960s, with recent awards from the Kennedy Center, US and Canadian Rock'n'Roll Hall of fame and for her album, Blue, hailed by Rolling Stone as #3 on the list of the greatest 500 records of all time, Mitchell is one of music's most influential artists. Audiences can expect to hear a wide array of Joni's greatest hits from her 40+ year career, including "Big Yellow Taxi," "A Case of You," "River," "Both Sides Now," "Cactus Tree," "Help Me," and many more. Reimann taught herself to play dulcimer for this show and includes renowned jazz, pop, and Broadway players in her band for truly authentic renditions, performed in the keys and arrangements that Joni played. This is one concert no Broadway or folk/pop music lover should miss! 54 Below is located in the Broadway Theater district of New York City. 
Featuring:
Hannah Reimann (Both Sides Now, 2019 ON WOMEN Festival: Off-Broadway at the Irondale Center, Brooklyn, Lincoln Center, etc.)
Michele Temple (Pere Ubu, Wicked)
Micah Burgess (School of Rock, Petula Clark)
Scott Chasolen ("The Machine" Pink Floyd show at BB King's on Broadway, US tours, Beginnings Chicago tribute, US tours)
Aaron Johnston (American Utopia, Brazilian Girls)
Mike Viseglia (Kinky Boots, Suzanne Vega)

More information here.