Joni Mitchell Tribute - Geneseo, NY, November 12
Posted October 09, 2022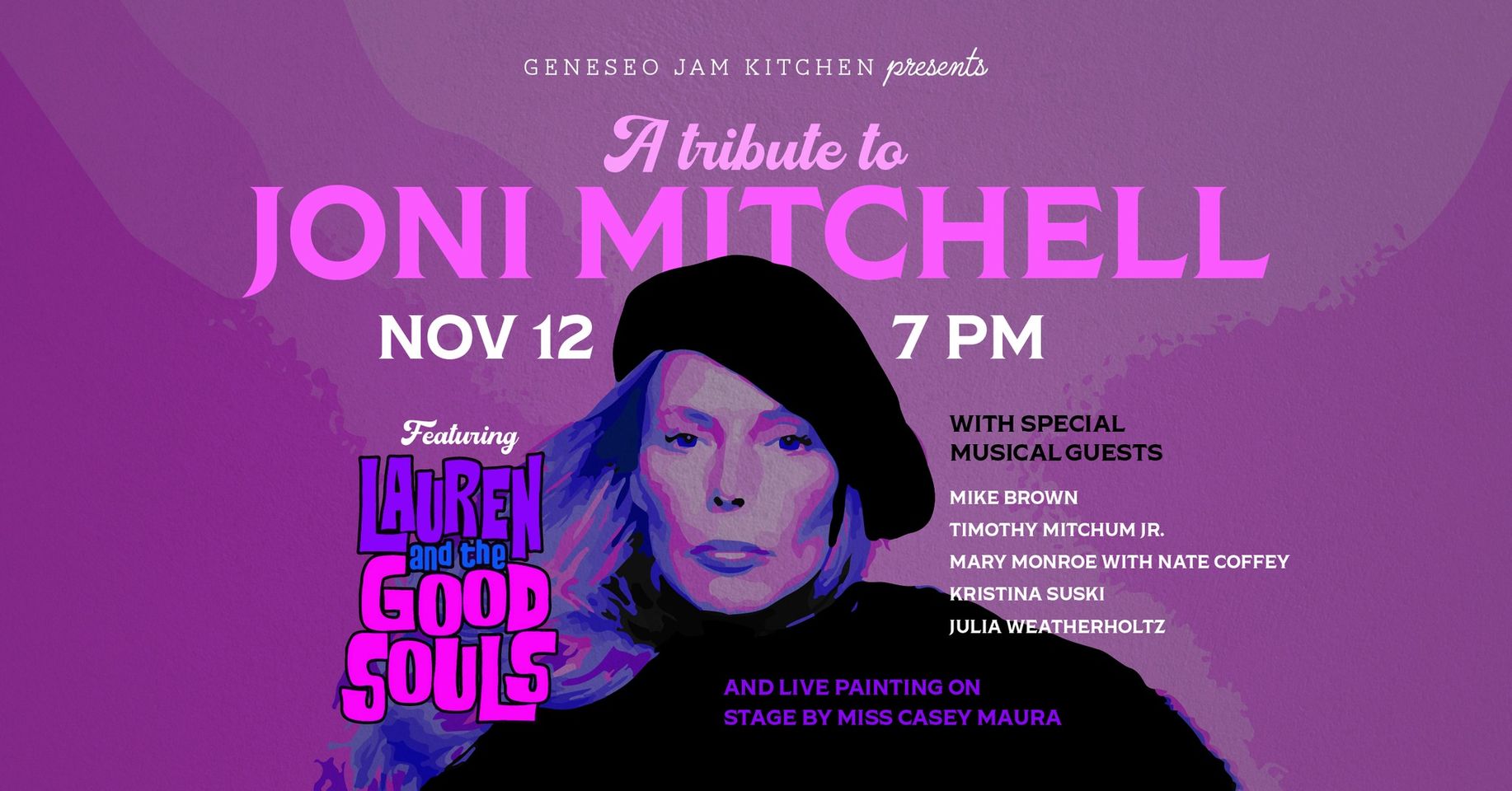 The Geneseo Jam Kitchen presents a night celebrating Joni Mitchell's 79th birthday! Tickets are $20 and available online through eventbrite, or can be purchased in person at Touch of Grayce in Geneseo. Student discount provided in person when id is presented.
Lauren and The Good Souls came together as a band to honor Joni 6 years ago, and have been together since. If you know Joni Mitchell's music, you know the complexity, beauty, depth and evolution of her songwriting. Each member of Lauren and The Good Souls is a multi-instrumentalist, making their ability to cover Joni's expansive repertoire a reality. From the intimate acoustic moments, horn section swells and orchestral arrangements, this band can cover it all.
Throughout their years of putting on this event, The Good Souls have brought on many guest musicians and live painters for a fully immersive Joni experience. This year we are so excited to announce that Mike Brown, Timothy Mitchum Jr., Mary Monroe with Nate Coffey, Kristina Suski and Julia Weatherholtz will be our musical guests and Miss Casey Maura will be painting live for the event
The band's love and admiration for Joni's music, and for each other, will captivate and engage the audience, making an evening that is truly something special.
One addition and also a loss this year, is that we will be honoring the life of Sara Rogers, our beloved bandmate that was tragically killed in a bicycle accident this past June. We will be selling some merchandise that she designed to raise money for a music therapy scholarship at Nazareth college that will be set up in her honor
The band consists of…
Lauren Faggiano – vocals, guitar, piano & dulcimer
Ken Schumacher – bass
Sungmin Shin – lead guitar
Cindy Tag – saxophones, clarinet and flutes
Joe Cappadonia – trumpet & flugel horn
Dominic Marini – drums, trombone & vocals
Nelson Rivera – percussion and tenor saxophone
Amanda Dimino – vocals, cello and piano