Echoes through the Canyon - 'Joni Jam II' - announced for June 10
Posted October 20, 2022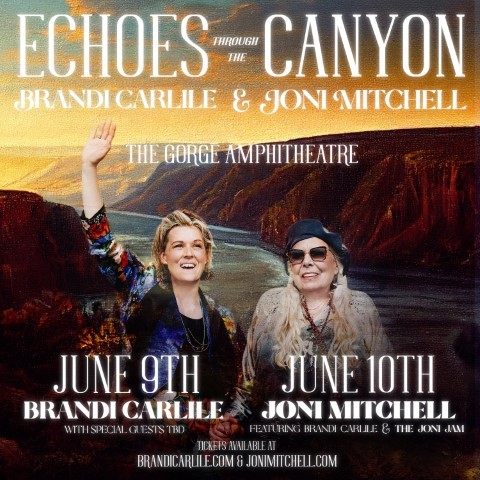 Is this Dreamland coming on? Could this be the Only Joy in Town? We got a break, unbelievable!
The secret is out- Joni will be performing live again for the second Joni Jam - 'Echoes through the Canyon' - with Brandi Carlile. Set your sights for June 10, 2023 at the Gorge Amphitheater in George, Washington. Tickets will be sold in three increments: an Artist presale starts at 10am on Thursday October 27. Then, the public sale of tickets begins at 10am on Friday, October 28 (Both times are US Pacific).
Also, Citi cardmembers will have access to presale tickets beginning Tuesday, October 25 at 10:00am until Thursday, October 27 at 10:00pm through the Citi Entertainment program.
We'll post any updates here, as details may change over the next few days. Amelia, this is not a false alarm.