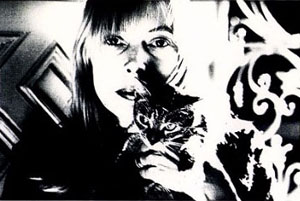 It has been 24 years since Joni Mitchell left Saskatoon and eventually arrived on the coffeehouse circuit in Toronto's Yorkville district. And although she has returned occasionally from her home in Los Angeles to visit her parents, last week was different. Under the glare of the media spotlight, Mitchell was back in Saskatoon for a triumphant homecoming. And the veteran singer-songwriter chose the Bessborough Hotel—where she often attended high-school dances—to meet the press on the western leg of a publicity tour to promote Chalk Mark in a Rain Storm, her best album in years. Donning a school beanie presented by three students at her old school, Aden Bowman Collegiate Institute, the 44-year-old artist fielded questions with charm and humor, just as she had done at a press conference in Toronto two days before. Said Bernie Fiedler, a former associate and longtime friend whom she visited in Toronto: "Joni's in great spirits. She's looking good and she's proud of her new album."
That pride is justified. Her latest recording is an artistic landmark that re-establishes Mitchell as one of pop music's premier talents. Three years in the making, Chalk Mark features some of her strongest compositions in more than a decade. And not since Court and Spark her critically acclaimed and top-selling 1974 album, has the singer sounded so confident. She even plans to undertake a limited concert tour this fall—her first in more than five years. Mitchell's new mood is also reflected in her other creative outlet visual art. Finally, after years of using her paintings only as album-cover illustrations or gifts, Mitchell has agreed to a commercial exhibition. In May, 18 of her canvases are scheduled to go on display in a prominent Tokyo gallery.
Clearly, Mitchell is in her prime. Chalk Mark, her 15th album in a recording career that spans two decades, is the culmination of musical ventures into folk, pop and jazz. Produced with her husband, bassist Larry Klein, who also co-wrote the music for three tracks, the album draws on all of Mitchell's creative faculties. And it demonstrates her artistic approach to songwriting. One of the ways in which she created aural texture was to invite several guest artists to sing or play on the album. They include English rocker Billy Idol, who contributes raspy vocals to Dancin' Clown. Discussing the track last week, Mitchell told Maclean's "It was for the contrast he provided. It's a great little cameo for him, and he brings real life to the part."
Chalk Mark grapples with such weighty contemporary topics as war and rampant commercialism. Mitchell's strongest statement on the album is Lakota, a defiant plea to preserve certain American Indian lands in the mineral rich Black Hills of Arizona. The song reflects the Hopi prophecy that the lands are sacred and must be preserved—even in the face of U.S. government plans to mine the region's uranium deposits. Sitting in her Toronto hotel room, dressed in earth tones and wearing a black hat and Navajo Indian jewelry, a healthy-looking Mitchell repeated her concern. "Governments are hassling Indians everywhere on this continent for their natural resources," she said. "I believe the Hopi prophecy. The uranium should not be taken out."
Mitchell is at home in the southwestern United States. After years of fascination with the desert imagery in the artwork of American painter Georgia O'Keeffe, Mitchell contacted her and made a week-long sojourn to the painter's New Mexico home in 1977. Although she recalled that O'Keefe was "testy in many ways," Mitchell says that she feels the legendary painter—who died in 1986 at 98 - grew to like her. "She once told me I should quit smoking," said Mitchell, a notorious chain smoker. "She added that she thought I should live— which I took as a high compliment."
Art and songwriting have gone hand in hand for Mitchell since she was in her teens. Born Joan Anderson, the daughter of grocer William and schoolteacher Myrtle, Mitchell enrolled at the Alberta College of Art in Calgary after high school. There, she began singing and playing the ukulele after classes— and ultimately found the art classes uninspiring. Going to Toronto in 1964, she sang in such Yorkville folk clubs as the Half Beat—until Fiedler booked her at his famous Riverboat coffeehouse. Said Fiedler, "I remember telling her, 'So, Miss Anderson, you're trying to achieve the Baez sound, are you?'" Later, she began singing her own songs exclusively, and Fiedler recalled her excitement when she first performed Both Sides Now, the ballad that Judy Collins later recorded, winning fame for its writer.
Her early recordings brought Mitchell—who had a short-lived marriage to folksinger Chuck Mitchell—to the attention of other singers. Then, Big Yellow Taxi and, particularly, Woodstock, became anthems for the hippie generation. But it was Mitchell's stark, beautiful 1971 album, Blue, that established her as one of the era's most influential singer-songwriters. Such compositions as My Old Man and A Case of You, romantic ballads written in a confessional style, ranked Mitchell with Bob Dylan and follow Canadian Leonard Cohen. After her next album, For the Roses, Mitchell began exploring pop territory with the dazzling Court and Spark.
Then came a succession of jazz-inspired albums—including a collaboration with composer-bassist Charles Mingus just before his death in 1979—that confused fans, confounded critics and sold poorly. But Mitchell insists that she has no regrets. "My records sell steadily over a long period of time, more like books," she said. "l think I lost a few people with the more jazzy projects but gained others who couldn't get into my previous work."
When the more rock-oriented Dog Eat Dog came out in 1985, Mitchell shocked listeners again with a collection of songs that railed against greed, TV evangelism and the far right. Mitchell says that those issues, along with a heavy California income tax levied against artists during the early 1980s, led to her rage on the album. Said Mitchell: "It put me in touch with all of the powerless and persecuted. And it opened up a political anger that was not there before."
Although Mitchell's anger is muted on Chalk Mark in a Rain Storm her resolve remains strong. As she travels to promote her new work, she exudes confidence with, and uncharacteristic tolerance for, the press. "I have to keep my spirit high," said Mitchell. "And to keep my creativity flowing, I've learned not to be afraid of failing—because out of the ashes of failure may come a great idea" By taking risks, Mitchell has survived into the late l980s with her art still blazing.
A voice of the spirits
The first lines on Joni Mitchell's new album, Chalk Mark in a Rain Storm, are an invitation to intimacy "I'm going to take you to my secret place. It's a place that you, like no one else I know, might appreciate." That enticing opening will make most longtime fans think that Mitchell has returned to her confessional style of songwriting. But My Secret Place, a tender duet with singer Peter Gabriel, never ventures deeply into Mitchell's emotional world. Instead, the song reveals how much the singer—after a tradition of baring her soul—now prefers to look outward. And Chalk Mark suggests that, although the artist has become less candid about her feelings, she is more open with her thoughts. Like her angry 1985 album, Dog Eat Dog, the new collection demonstrates that Mitchell has shifted her concerns from romantic to public affairs. But where the earlier recording suffered at times from excessive rage and high-tech studio effects, Chalk Mark (Geffen/WEA) triumphs with confidence and clarity—a sign that Mitchell has found a powerful new voice.
Paradoxically, the album is filled with many different voices: Chalk Mark features guest vocalists ranging from rock star Gabriel to country artist Willie Nelson. Mitchell takes those diverse artists and either casts them as characters in songs or uses their voices to color arrangements. In the exuberant rock song Dancin' Clown, Billy Idol plays a growling bully named Rowdy Yates who taunts a shy boy called Jesse, sung by Tom Petty. On Snakes and Ladders, a rollicking tune about the perils of materialism, Mitchell's soprano and former Eagle Don Henley's tenor weave in and out of each ether with a sweeping effect. And Nelson's weathered voice warms the shimmering ballad Cool Water.
Still, Mitchell's spirit pervades the richly textured Chalk Mark. She composed the compelling rhythms that run through many of the songs. In Number One, a scathing depiction of the upward mobile generation, Mitchell's voice raps out the words "Got to be a winner—trophy winner, get to hold your head up high up" as if she were beating out an improvised drum pattern. The masterpiece at the album's centre is Lakota, which depicts the plight of native people in the southwestern United States. Through her urgent lyrics and mystical chants with native leader Iron Eyes Cody, Mitchell offers a stirring case for the preservation of sacred Indian lands when she sings "Out of balance—out of hand, we want the land!" Like the rest of Chalk Mark, the song resonates with conviction.