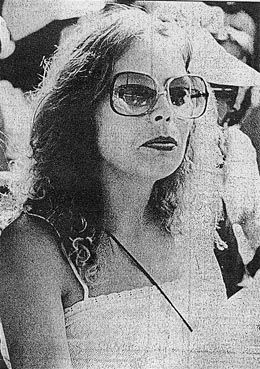 So Joni's discovered the beguiling (and it seems inevitable attractions of the Fairlight computer now, how she? But don't worry all your purists, she hasn't gone electrobop all of a sudden, the synths merely add a precision and some background shading to that distinctive style of poetic confessional/analytical narrative that warms the cockles of a romantic nature.

Thomas Dolby (who seems to be spreading his considerable talents around a diverse catalogue of artists) co-produces and plays on this, on which Don Henley, James Taylor and Rod Steiger (as a mad Evangelist) also guest. Sentimental she's always been, emotional and instinctive responses are her inspiration but "Dog Eat Dog" is less of an introspective journey and more of a disenchanted vision of the Eighties by a saddened Sixties idealist.

She's ditched the recent jazz preoccupation for more classic Mitchell, meandering and full of warm inflections with a contemporary instrumentation. "Fiction" casts a sad eye over media-influenced imagery ("elusive dreams and vague desires fanned to fiery needs by sexy boys in flaming TV fires"), "The Three Great Stimulants" decries the pressures of fast-lane society while "Tax Free" is rich with sarcasm for those moral majority evangelical preachers, censors of free expression who line their own pockets in the name of Christianity.