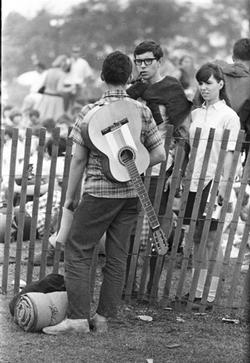 Festival-goers gather at the 1965 edition of the annual folk festival, ready to make their own music. (Peter Geddes/Toronto Telegram/York University Libraries)
Music lovers and organizers of Ontario's Mariposa Folk Festival are looking back at the history of the annual festival, which turns 50 later this month.
Music lovers and organizers of Ontario's Mariposa Folk Festival are looking back at the history of the annual festival, which turns 50 later this month.
Just this week, York University in Toronto debuted an online archive of pictures, audio, programs and history related to the festival, which has hosted musicians such as Joni Mitchell, Joan Baez and Gordon Lightfoot.
Among the items on display digitally is the diary of Mariposa founder Ruth Jones McVeigh, who was a 33-year-old mother of four living in Orillia, Ont., when she conceived of the idea of a local folk festival.
"I was living in Orillia, which was a much smaller and much quieter little town than it is now," Jones McVeigh said in an interview Monday with CBC News.
"We went to hear John Fisher ...,he was known as Mr. Canada. One of the things he said was that every small community should have a hook to hang tourism on. I put that together with the fact that I loved to go to folk festivals in Toronto, and I thought maybe Orillia needs something to wake it up."
The festival debuted in August 1961, with performers such as the Travellers, Al Cherney, Bonnie Dobson, folklorist Edith Fowke and young Canadian singers Ian Tyson and Sylvia Fricker. Named Mariposa, after the pseudonym humorous writer Stephen Leacock used for the town of Orillia, the annual folk festival soon grew to be one of the biggest and most important on the Canadian music scene.
Jones McVeigh recalls a number of "bumps" along the way in planning the annual festival, which is still organized by a volunteer-run, non-profit group.
"The third year a lot of people came who weren't interested in the music," she recalled. "They came to party and wreck the joint. So, we got kicked out of Orillia."
The festival spent many years on Toronto Island before returning to Orillia. As the online archive of festival programs for every year of the festival shows, it featured a rich variety of music.
"It has always been my ideal that we had singers and performers from right across the country - Newfoundland to way out west," Jones McVeigh said.
Archive captures spontaneity, energy of event
One of the audio events caught online is a 1975 workshop focusing on women's protest songs titled Bread and Roses and hosted by U.S. folk/blues singer Malvina Reynolds, whose song Little Boxes became a hit for fellow folkie Pete Seeger and was recently revived as the theme song of the TV series Weeds.
The workshop featured performances by Vancouver folk singer Vera Johnson, a then young ingénue named Rita McNeil and an unknown volunteer standing up and delivering a song that no one else could remember.
York University archivist Anna St. Onge said she included that clip in the archive in the hope that someone who sees it will recall who the unknown singer was.
"We are open for engagement with the public and the fans," she said.
St. Onge said York University has an archive of more than 300 boxes donated by the Mariposa Folk Foundation in 2007. It also acquired Jones McVeigh's personal archive from Library and Archives Canada, as well as federal funding to digitize parts of the archive and make it available online.
The archivists have focused on digitizing audio recordings from the first 20 years of the festival that were on fragile quarter-inch tape, she said. There are workshops, musical performances and radio jingles among the audio files.
Also viewable online are photos, past programs and personal accounts of the festival experience.
"Part of the selection process was to document how spontaneous [it was] and the energy of the festival and how completely random things happened," St. Onge said. "Artists that would never collaborate in any other circumstance from two different areas of the country coming together and jamming - the fusion aspects of live music."
Each year of the festival is celebrated for its strengths. In 1972, Bob Dylan, who was not on the program, turned up. In 1975 and '76, whole communities of artists from Newfoundland and Labrador came to perform and tell stories.
The major hurdle to digitizing Mariposa is getting copyright permissions from artists, St. Onge said. As the archive receives approval for the use of additional works - and fans and performers add their own memories - those will be added to the site.
Jones McVeigh said the Mariposa Festival Foundation has always been conscious of preserving history and passing it on, which is why she included educational and children's program right from the start.
"I think children need to know folk music; it's part of their history," she said.
This year's Mariposa Folk Festival is scheduled for July 9-11 in Orillia.