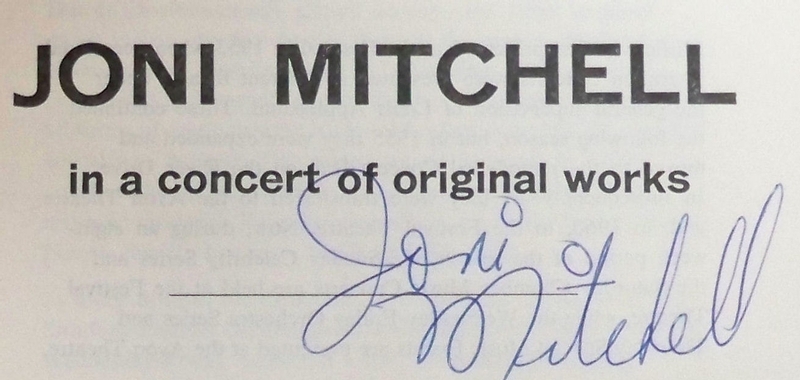 SPECIAL EVENTS
July 10 at 8:30 p.m. in the AVON THEATRE
---
Making note of the artistic talent of a student named Roberta Joan Anderson, the child's sixth grade teacher said, "You love to paint with brushes and colours. Someday I think you'll love to paint with words." A dozen years later Roberta Joan Anderson, now known as Joni Mitchell, made the teacher's prediction come true with her first album.
Just one example of how true the prediction was can be found in a recent Detroit review: "She is a beautiful woman. Her voice and her acoustic guitar are free, pure instruments in themselves; there is an additional beauty in the way she uses them to convey such a full range of idea-emotions. But if she looked like your grandmother and her voice cracked and she only knew three chords, her performance would be justified by her songs alone. As a songwriter she plays Yang to Bob Dylan's Yin, equalling him in richness and profusion of imagery and surpassing him in conciseness and direction."
Born November 7, 1943 in McLeod, Alberta, Joni attended public schools in Saskatoon and, bent on a career as a commercial artist, enrolled in the Alberta College of Art in Calgary. Just to pass the time, she took along a ukelele. After mastering some chords and a few traditional ballads she found she could earn extra money by singing and got her first job in a coffeehouse called the Depression. As time went on she found she enjoyed singing more than painting, and decided to make a trek to the Mariposa Folk Festival, a three-day trip east on the C.P.R. On the way she wrote her first song, a blues number called
Day After Day
, timed to the clacking of railroad wheels on steel rails.
And she didn't return to Alberta. Instead she found work in half-a-dozen Toronto coffee houses and continued to write songs. In Toronto she met and married Chuck Mitchell in June of 1965. A year later she went to live with him in Detroit, but the marriage was dissolved soon after that. Joni continued appearing in Detroit clubs, then came to New York, where she was discovered and a record contract signed.
The 24-year-old blonde, with hair down to her waist and a startling bone structure, has now written over 60 songs and has just bought a house in Laurel Canyon, California, where, in her time off from writing songs, she paints in her backyard. She may even have future in art.
Thanks to The Gary Zack Archives for the photo and content of this personally signed program insert.