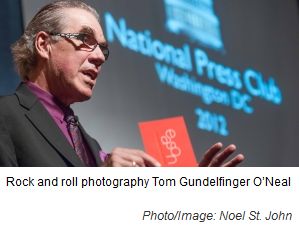 Photographer Tom Gundelfinger O'Neal provided a guided tour of the 1960s and 1970s rock and roll scene on April 11, as photo buffs and music fans gathered for a reception and program marking the opening of his month-long photo exhibit at the National Press Club.
O'Neal was a young fine arts graduate searching for direction in the late 1960s when he had an "epiphany" at a record store in Carmel, Calif., as he gazed at the Mamas and Papas DELIVER album cover.
"I decided I am going to be a photographer and photograph rock and roll bands," he said.
He did a bit of 1960s-style networking in the music industry, landed hard-to-get photo credentials for the 1967 Monterey Pop Festival, and started taking the intimate photographs of performing rock stars that would launch his career and lead to the design of more than 70 album covers and pictures of icons from Jimi Hendrix, Jim Morrison and Joni Mitchell to Crosby, Stills, Nash and Young, the Doors and the Rolling Stones.
Joni Mitchell from TGO Photography.
During a 90-minute presentation, O'Neal described his early work with a $183, 35 mm Pentax camera. His work evolved when he used more exotic photography tools and techniques, including a Mathew Brady-style tin-type approach that led to the famous
DEJA VU
album cover for Crosby, Stills, Nash and Young.
He utilized infrared film for one of the nine album covers he did for Stepphenwolf. That one album cover took several weeks to complete, O'Neal said, but it could be done in a half-hour today with Photo Shop.
O'Neal shared stories and observations about the rockers he got to shoot in both intimate settings and performance venues. One of the individuals whose friendship had the most impact on his work was David Crosby.
"Somehow, he and I connected, and he had lot of influence on my career," O'Neal said. "It took hanging out — you took a lot of pictures and you didn't get paid, and it gets to the point that they didn't even know you were there."
Among the benefits of working with Crosby was getting to know Joni Mitchell, who O'Neal said was just an unknown "blonde folk singer" earning $600 a week performing in coffee houses but who would soon become a star commanding $40,000 a performance.
At one point when he was visiting Crosby's house and taking a series of introspective pictures of Mitchell, "she got down on the floor of the living room and played her entire album."
He shared the names of the guitars played by artists B.B. King (Lucille), Jerry Garcia (Rosebud) and Neil Young (Big Black) and described Mick Jagger as "immensely charming, extremely intelligent. The guy could run any major corporation as far as I'm concerned."
O'Neal, whose cameras now cost in excess of $5,000 each, evaluated digital versus film photography.
He said digital can be "a blessing and a curse at the same time." Although you can "take a picture and have an immediate reference, and it is immensely important," there is something "more secure" in film.
He said he's returning to film in his photo shoots these days.
"The true art of making a black and white photograph — there's nothing that can match that," O'Neal said. "Nothing beats the technological process of loading the film in a camera, processing it and making that print. That will never go away."
The exhibit and reception were sponsored by the Club's Photography Committee and Leader's Edge magazine. O'Neal's photos and album covers will be on exhibit in the Club lobby and main entrance area through May 4.