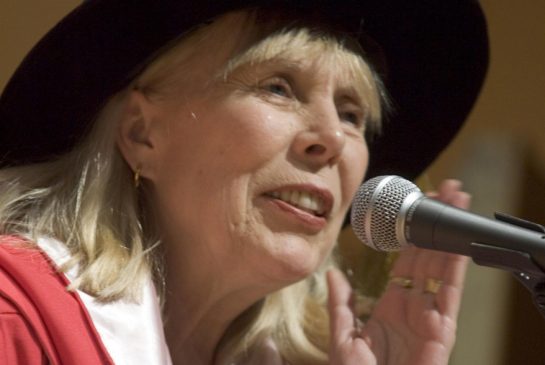 Joni Mitchell is coming to Toronto's Luminato Festival in June. After weeks of speculation, the legendary singer and songwriter confirmed that she will be in attendance at Massey Hall for Joni: A Portrait in Song - A Birthday Happening.

To celebrate the famed musician's 70th birthday, the festival has planned a star-studded two-night concert tribute as well as discussions about her early years in Yorkville and her wide artistic influence.

Joni: A Portrait in Song will be held on June 18 and 19 and feature well-known musicians and vocalists, including Chaka Khan, Glen Hansard, Rufus Wainwright, Lizz Wright, Kathleen Edwards, Liam Titcomb, Cold Specks, Esperanza Spalding and Herbie Hancock.

Mitchell will also take part in Time Talks, the New York Times' conversation series with artists, musicians and social influencers. Mitchell and drummer/bandleader Brian Blade will discuss their careers with New York Times' pop music critic Jon Pareles on June 16 at the Isabel Bader Theatre.

Mitchell, known for such classic songs as "Both Sides, Now," "Help Me," and "Big Yellow Taxi," evolved over the decades from folk into pop, jazz, and avant-garde.

She grew up in Saskatchewan, was part of the Toronto folk scene in the mid-1960s and played in Yorkville clubs. On June 17, musicians Murray McLauchlan and Sylvia Tyson will talk about the vibrant Yorkville music scene of that era.

In recent years, Mitchell, who is also a talented painter, has divided her time between homes in Los Angeles and British Columbia's Sunshine Coast and been somewhat reclusive. She reportedly suffers from Morgellons Disease, an unexplained skin disorder characterized by disfiguring sores and crawling sensations under the skin.

In 2007 she collaborated with the Alberta Ballet to create The Fiddle and the Drum, set to her music and artwork. Her website, jonimitchell.com, reports a new ballet collaboration to premiere in 2014 is in discussion.

Other Times Talks participants include artist Robert Wilson and Academy Award-nominated actor Willem Dafoe in discussion about The Life and Death of Marina Abramovic; film director Atom Egoyan on his experiences directing opera; and architects Liz Diller and Ricardo Scofidio.

Luminato runs June 14 to 23 at various cultural venues in Toronto. For tickets and more information on the festival, visit luminatofestival.com.