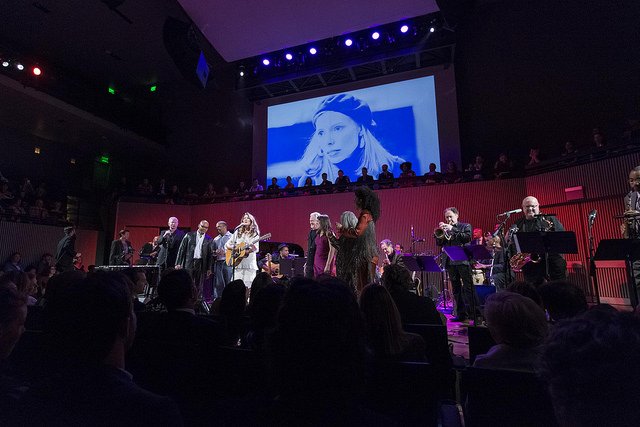 "Am I supposed to say something?"

Kris Kristofferson was standing in front of the microphone, a teleprompter at his feet, preparing to launch into "A Case of You" near the end of the SF Jazz Center's Gala for Joni Mitchell Friday night. Though the show was tightly run, there'd been some uncertainty about what tone to take: Was this a celebration or a memorial service?

SF Jazz had been planning to present Mitchell (or "Joni," as everyone called her that night) with a Lifetime Achievement Award months before her health took a turn for the worse. In March, the 71-year-old singer-songwriter was rushed to an L.A. hospital and was in intensive care for weeks before TMZ reported (falsely it turns out) that she had slipped into a coma in late April. Her prognosis, even what ails her, is still uncertain, though it was reported last week that her friend Leslie Morris had petitioned for conservatorship "to make care decisions for Joni once she leaves the hospital."

"Joni doesn't like to be honored," said the center's founder and artistic director Randall Kline before introducing Wayne Shorter, who accepted the award on her behalf. Shorter suggested she was doing fine before addressing the real reason the crowd - Jazz Center patrons who paid tens of thousands of dollars to attend the benefit - was there: the enduring art of her music.

"Joni came close to writing what she wished for," said the saxophonist, and judging by the rich poetic material, performed by an array of artists in a variety of styles - jazz, pop, country, R&B - she wished for a lot.

Ben Fong-Torres opened the evening talking about the times he interviewed Mitchell for Rolling Stone (she was his first cover story for the magazine in the spring of '69) and the influence her music had over the decades. Prince used to send her mash notes, written with his trademark 2's and U's (she threw them out) and once said her 1975 "The Hissing of Summer Lawns" was the last album he listened to all the way through. (His cover of "A Case of You" is a marriage made in heaven.)

"Someone once said to her, 'Why don't you make a comeback?'" Fong-Torres recalled. "And she said, 'Where did I go? I'm like the Northern Star - I'm always here.'"

That reply echoes the opening lines of "A Case of You" - "Just before our love got lost you said/I am as constant as the Northern Star/And I said, 'Constantly in the darkness/Where's that at?/If you want me, I'll be in the bar'" (supposedly taken from an argument Mitchell had with one-time lover Leonard Cohen). Kristofferson, whose voice was craggy in its prime, didn't do much with the lyric. He seemed less familiar with the song than other singers were with far more obscure (and jazzier) numbers like "Edith and the Kingpin" or "Jungle Line," both of which got a great scat treatment from Kurt Elling, backed by the SFJazz Collective. (A couplet from the latter could have been written for Joni's detractors: "Those cannibals of shuck and jive/They'll eat a working girl like her alive.")

The most soulful moment of the evening belonged to Judith Hill ("20 Feet From Stardom") whose arrangement of "River" made it sound like Aretha was in the house. There was a black-and-white photo of Joni skating above her as she sang (one in a montage of photos) dressed in a black boa and beret against a white background - soul on ice.

Patti Austin provided two killer covers herself ("Two Grey Rooms" and "Don't Interrupt the Sorrow"), pausing between numbers to address the songwriter, who will receive a videotape of the gala. She called Mitchell "my goddess," and then asked a favor: "Could you write some simpler songs?"

Maybe that was why someone thought she needed to make a comeback. The early Joni of many hits ("Both Sides Now," "The Circle Game," "Woodstock," et al) veered into jazz territory beginning with the 1974 "Court and Spark," still her most successful album. Her later collaborations with Charles Mingus and jazz reworkings of her own songs left some fans behind - but they're her songs. As she said to an audience on the live "Miles of Aisles," comparing painting (which she also does quite well) to singing: "Nobody ever said to Van Gogh, 'Paint "Starry Night" again, man!'"

Across the street from the Jazz Center was a makeshift shrine of sorts, handmade placards wired to a cyclone fence. It began as a bit of guerrilla marketing, but soon people were adding their own touches, "Get Well Joni" signs and a heart-shaped white Mylar balloon. One placard (written by a center staffer) read, "Thanks for making love songs complicated." If you want simple, she'll be in the bar.

For a finale, all the evening's singers and musicians came on stage to join Kelly Jones in singing "A Free Man in Paris," one of Joni's best hit songs and an early indictor of the more complex directions, musically and lyrically, in which she was headed. Written for David Geffen (as he never tires of reminding people), it speaks to a longing for a better life, one just out of reach, that most of us have. It was an odd choice for a closer - not exactly a sing-a-long ("You Turn Me On" had been the first choice) and only Jones and Joni's longtime accompanist saxophonist Tom Scott seemed to know all the words: "You know I'd go back there tomorrow/But for the work I've taken on/Stoking the star-making machinery/Behind the popular song."