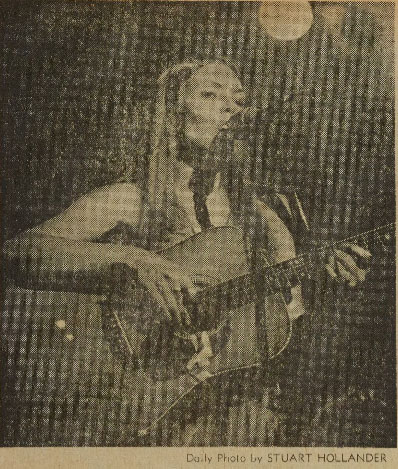 No doubt about it. Joni Mitchell can boogie.
Touring for the first time with a jazz-boogie back-up band (Tom Scott and the L.A. Express), Joni "knocked 'em dead" at Hill Aud. - or at least into an admiring stupor - with her versatility Saturday night.
Surrounded by the true "superstar" aura, she delivered her rousing rock and roll "Raised on Robbery" as well as her gentle but piercing dulcimer tunes. And then she was gone.
No press interviews. No backstage visits. Clutching a bouquet of red roses, Joni had barely a moment to greet well-wishers at Hill Auditorium's backdoor. A few words exchange with fans. An album signed.
Her road manager and entourage spirited her back to Campus Inn on her private bus comfortably decked out with curtains and bar service. The plush living-room style interior cost $150,000 to remodel, according to one of Joni's sound men.
One wonders how much fame and fortune have changed Joni's view of her audience since the last time she played Ann Arbor in Canterbury House about five years ago.
See tomorrow's Arts Page for < ahref=view.cfm?id=3582" target="_blank">Kurt Harju's review of Joni Mitchell's new album
Taking her privacy quite seriously these days, Joni now reveals herself only on record and onstage. Saturday night her most revealing and intense songs were those from her Blue album, accompanied only by her flowing dulcimer. The austerity of the music accented the powerful vocal on "A Case of You" as Joni flavored it with her characteristic bittersweetness.
Yet she played a mean acoustic rock guitar and made thorough use of open tunings which gave a full, lound [sic] sound. "Big Yellow Taxi," inspired by Joni's trip to touristy Hawaii, allowed Joni to do some of her own rocking and rolling without the backup band. Not bad for a woman who learned guitar from a Pete Seeger album.
It was only during her solo set that Joni talked to her audience, offering a few scraps of explanation to those interested in pinpointing her lyrics' meaning. She described a selection from For the Roses as "the first of many retirement songs...a farewell to show biz."
Humorously prefacing "People's Parties" from her new album Court and Spark, Joni told the audience of the party which provoked the acerbic treatment. The furniture was transparent, the food was transparent, and, said Joni, "I had the feeling that the people were transparent...I felt like cellophane myself."
To some, Joni Mitchell is a fine singer whose lyrics never quite strike home, for her words suggest an unusually extreme fragility of spirt [sic]. But to others, her compositions are poetry - and not in the Rod McKuen sense - bringing out the poet in all of us. Jamie Gibson (LSA, '75), for instance, attached a verse of his own song (inspired by Joni) to a red tulip and placed it hopefully onstage for the elusive singer Saturday night. Somehow Joni either didn't see it or ignored it.
"I couldn't stand it any longer," explains Gibson, who screamed out to Joni to look at his tulip. "It's not everyday you yell before four thousand, four hundred people."
So Joni read his note silently and then giggled a "thank you," never relating the note's content to the curious audience. It was probably the last line that got her. A verse concerning unattainable dreams, it concluded: "But I sure wish you'd come up here on the hill and stand beside me and be my queen."
Quips Gibson, "Her next album is going to be "For the Tulips."