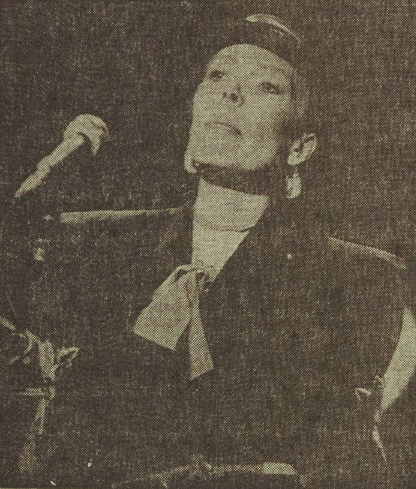 By abandoning her usual concert format of mixing old hits with current favorites and experimenting with the largely new material she did present, Joni Mitchell delighted, confused and finally exhausted a sell-out crowd at Hill Auditorium Thursday night.
After a generally-enjoyable hour-long set by the L.A. Express, Mitchell came on for a marathon session that lasted over two hours during which she freely made use of every possible band combination - from full group backing to various one-man accompaniments and solo spots. Concentrating on acoustic guitar, Mitchell played only two songs on the piano and none whatever on the dulcimer - a development that limited her musical scope and disappointed some fans - though she compensated greatly by introducing five new songs that were definitely among the best and most upbeat selections of the evening.
The final result was contrasted markedly with her last two concert tours with the L. A. Express (appearing this time without founder and former leader Tom Scott), and her live recordings on Miles of Aisles. Instead of employing the band-solo-band format she has in the past, she changed her backup every couple of tunes in haphazard sequence.
The situation gave her the freedom to try out novel and interesting arrangements, which though not always achieving the intended effect, were surprisingly assertive and refreshing versions of tracks from her last two studio albums.
Even her appearance and stage manner revealed a more confident, worldly image. She began the concert dressed in a black Spanish, '30's-fashion coat and pants complete with hat projecting a somewhat forbidding and severe expression. As the set progressed, she let down her hair, took off her coat, put on a long string of feathers and became visibly more open and relaxed in the process.
Though she maintained a certain distance and reserve throughout, Mitchell did warm up enough to relate some entertaining stories about her songs including a rather sad footnote to her classic "For Free." She stopped playing to describe how the street musician who inspired the song had fallen into some bad habits which she felt demonstrated how contrary "romance and reality" can be in her music.
Her more recent works ("Free Man In Paris," "Shades of Scarlet Conquering," "Love Or Money" and "Raised On Robbery") were definitely the best performed and probably the most well-received. Her very newest songs, like "Coyote" and "Don Juan's Reckless Daughter," were especially captivating for their vivid images and energetic vocals.
But the carefully-calculated gamble of her new approach didn't pay off as well as it should have. "Edith And The Kingpin" and "Harry's House-Centerpiece" were interesting though in a simpler context, but didn't match the strengths of her recorded interpretation.
The success of the concert basically depended on an individual's taste and expectations. If one went to see the updated greatest-hits presentation she has offered before, then it might have been disillusioning. But if one wanted a unique musical experience featuring new and exciting material, it could not have been a rarer treat. While the performance could have been more polished and less taxing, it is unlikely that it could have been any more rewarding given the nature of her present mature attitude and refined style.