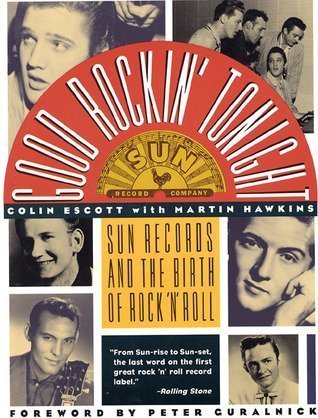 GOOD ROCKIN' TONIGHT
Sun Records and the Birth of Rock 'n' Roll
BY COLIN ESCOTT
with MARTIN HAWKINS
McClelland & Stewart, 276 pages, $26.95
SAM Phillips is justly considered the first modern record producer. He defined a sound in his modest Memphis studio for Elvis Presley, Jerry Lee Lewis, Johnny Cash, Carl Perkins, Roy Orbison, the early Howlin' Wolf and B.B. King, Ike Turner (pre-Tina), Charlie Rich, and the host of lesser-knowns who crop up regularly on rockabilly re-issues.
In their exhaustive study of Phillips and his small but mighty record company, Sun, Colin Escott and Martin Hawkins have fashioned a valuable piece of research that is often also a good read.
Phillips used the recording studio as a means of self-expression and spirituality. His work was primitive, even compared to the standards of the mid-fifties. He gladly sacrificed clean sound in favour of cloaking his artists in a mysterious, echo-laden shroud. He achieved this effect by using two Ampex 350 record machines, one slightly delayed to produce the cavernous "slapback" effect.
A country boy from Alabama, Phillips got his start, like so many others from that era, as a radio engineer and disc jockey. He also earned a little extra cash working as a techie at the Skyway ballroom, a live venue in Memphis that was part of the R&B circuit. He took the plunge and realized his dream of producing his own artists in January, 1950, when the Memphis Recording Service opened for business.
Phillips gambled that a larger market existed for R&B music than the major companies had tapped so far, saying, "I knew that whites listened to blues surreptitiously." His first commercial success came with Jackie Brenston and Ike Turner's Rocket 88, now considered by many to be the first rock 'n' roll record.
Other independent labels moved into the Memphis territory, which severely reduced the already small profit pie. By 1956, after recording many of the great and near-great bluesmen - Howlin' Wolf, B.B. King, Little Milton, Rufus Thomas, James Cotton and Junior Parker - Phillips gave up and switched his allegiance to white music, admitting that is was too difficult for a small label to break black artists into what was essentially a racist market.
Between July, 1954 and November, 1955, Phillips watched Elvis transform himself from a shy, unassuming kid into real "hep cat." Mystery Train, a song that had failed for Junior Parker, reached number one on the country charts, and the rest is history. Unfortunately, Phillips sold his stake in Elvis to RCA for $35,000 because of severe cash-flow problems; his prize artist was selling like hot cakes, but revenue wasn't coming back quickly enough.
He says he never regretted the decision because it allowed him to flourish for another half decade, discovering Orbison, Cash, Perkins and the rest. With all of his artists, Phillips liked to leave the tape running, and never forced them to perform under the duress of the clock. He waited out the dry spells, eventually coaxing out their best performances.
The authors have provided a thoroughly researched story that fortunately also shows Phillips to be human. The producer's stinginess, which helped him to survive initially, may have caused Cash's defection to Columbia in 1958. The credit usually given to Phillips for his tenacity in the early years obscures the fact that his secretary, Marion Keisker, was possessed of superior managerial skills and most probably kept Sun afloat while the producer refined the sound. And his knack for recognizing talent wasn't always spot on: He tried to graft the rockabilly image onto Orbison's pop genius, figuring he wouldn't be able to cut it any other way.
Good Rockin' Tonight wallows in minutae at points, but hilarious anecdotes balance the factual overload. When Johnny Cash was having difficulty repeating the success of I Walk the Line, Phillips came up the the god-awful Ballad of a Teenage Queen to appeal to the younger crowd. The marketing ploy? Run a series of beauty pageants at every Canadian tour stop. The catch? Girls had to buy, the single to enter. An incomprehensible 100,000 copies of Ballad were sold in Canada! The winner of the contest in Saskatoon was - wait for it - Joni Mitchell.
Then there's the story of session sideman Jimmy Wilson, who was so twisted they had to plead with him to stop cleaning his guns and come down to the studio. Once, in performance, Wilson suddenly stopped pounding the keys in mid-song and switched to Chopin. The other musicians had to yell at him to break the trance, and he just as quickly flipped back into the rockabilly groove.
There are other nice touches, such as the mini-discographies that close each chapter and recommend which CD reissues are essential. The grainy photos reveal the ambience of the time, a time when defining a new genre meant combining country with blues, when multitracking recording facilities were a dreamd, not an option. Nowadays samplers and MIDI technology are the norm, but Escott and Hawkins have captured here the inspirational essence of a simpler process.