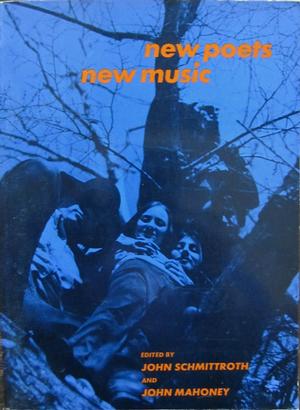 From the out of print book "new poets, new music" published in 1970.
As performer, Joni Mitchell, a pretty, long-legged, long-haired blonde, seems a Modigliani, a little girl in braids grown suddenly almost wise through sadness. Wistful and ingenuous, she sings alone at stage center accompanying herself on guitar or piano. On her popular albums, through electronic dubbing, her own voice is a sensitive accompanying instrument.
In her late twenties Canada-born Joni is successful as composer and as interpreter of her own music. Her songs are included in the repertoires of several other "new folk" artists, most notably that of her good friend Judy Collins, who has built a part of her own career on "Michael from Mountains," "Winter Grey," and "Both Sides Now."
And the stunning album cover art, which offers another medium's insights into her subjects, themes, and tones, is of her own design.
Each of these talents - composer, musician, designer - contributes to another skill as yet unrecognized: the song lyrics of Joni Mitchell mark her as a promising young poet.
A woman holding an exotic bird dominates the lush, delicately drawn face of her first album. Long, intricately patterned hair threaded with delicate flowers falls down her back. On her head is a black and gray silk Juliet cap decorated with pearls. At the very top a delicate glass bauble holds a photograph. On the left and above, setting off the figure, are large tropical flowers; on the right, a flight of seagulls, a setting sun, and a pirate ship. Watercolor oranges, yellows, and greens dominate the montage.
The center of the back cover is a blowup of the inset photograph. It shows Miss Mitchell with orange transparent umbrella, a suitcase, and a guitar standing in the rain next to a small van in a littered city street. Enchanting Beardsleyesque small creatures and plants frame the picture. At lower left a peacock stares at the girl; at upper right are cactus trees; at lower right are large flowers in delicate pastels. Again greens, browns, and shades of orange predominate.
This richness of color and intricacy of design indicate a unique feminine consciousness whose milieu is a blending of reality and fairytale wonder.
Most of Miss Mitchell's poems, too, are centered on a young woman in her twenties who sees the world, much as an older Alice might, as a potpourri, usually sad, of real and imagined flowers.
Through the poems runs a single pastel story of the few successes and many failures of a girl searching for love. She once "had a king in a tenement castle / Lately he's taken to painting the pastel walls brown / He's taken the curtains down":
I had a king dressed in drip-dry and paisley
Lately he's taken to saying I'm crazy and blind
Finally, she is abandoned, a queen in the grove. "The King's on the road."
She is rescued by "Michael from Mountains," who can transform with his magic the ugliness of rain in the city to "the sun in the painting that smiles from the wall." He, too, though, may stay only a short time and must leave when his mountains call. There is evidence of reading this poem allegorically, making Michael a symbol of the rich inner life capable of transfusing base reality. With only "a stick that he found," for example, Michael can change the "colored arrangements" of an oil slick on a rain-soaked pavement. And the chorus, repeated three times, vows that someday the speaker will get to know Michael very well.
The city, whose ugliness Michael transcends, can be wondrous and exciting. "There are places to come from and places to go." But more frequently "You feed it all your woes." It's a nightmare, "a ghostly garden / With gangs and girlie shows." (In "Nathan La Franeer" there are three such grotesque parodies of the nursery-rhyme Mary's garden.)
The city usually is a place to flee - to the simplicity and pastoral charm of the country, to "Sisotowbell Lane," where
Jovial neighbors come down when they will
With stories to tell
and where there are "muffin buns and berries / By the steamy kitchen window," and a rocking chair and stars and "a candle in the window."
Most frequently, the country is a seascape with "peridots and periwinkle blue medallions," where "Mermaids live in colonies," where one can share his dreams with the seagull, symbol of freedom.
The sea, however, may betray you, too. It may bring someone you thought a prince, who once brought gifts of "silks and sandalwood and Persian lace," who turns out to be a pirate who'll "sink you with a kiss" and "steal your heart and sail away."
In city or country, at the seaside or in a yellow-slickered neighborhood park in the rain, there are days when the world is beautiful. There are "Chelsea Mornings" with "milk and toast and honey and a bowl of oranges, too," when "the sun poured in like butterscotch and stuck to all my senses," a day you can "put on," with "a sun show every second." There are days, especially after one has stayed up all night, when morning "comes up like a dream / All muted and misty."
And by love this world is taught to sing. Life is meeting a man in a Bleecker street cafe with "sorrow in his eyes," or at the seashore "a golden Prince," or on the midway one stands out "like a ruby in a black man's ear." All are "Songs to Aging Children Come," in a magical, musical garden. A few songs chime and click and have "laughing harmonies." But
Some come dark and strange like dying
Crows and ravens whistling
Lines of weeping, strings of crying.
One of the best of these songs, one of the most fully realized poems, is "Marcie." As usual, the power is hung on a slight, sad narrative. Marcie has been asked to wait by a boy who left her. She does - for a year of growing anxiety and despair. Finally, angry and jealous, "she bought a one-way ticket / And went west again." The skill of the song is in its conciseness, in its unifying symbolism, and most of all in its imagery. And all is carried off with a musician's ear for rhythm and a painter's eye for detail. The first four lines tell the story with remarkable economy:
Marcie in a coat of flowers
Stops inside a candy story [sic]
Reds are sweet and greens are sour
Still no letter at her door
Immediately one realizes sadly that she has, in Jessamyn West's phrase, "the scent of the victim," that her innocence has betrayed her. So there is dramatic irony in watching her washing curtains, dusting with his shirt; in seeing spring slowly turn to summer, summer's green becoming autumn's red, and finally winter blowing in.
As Marcie's story unfolds, pathos grows. She "buys a bag of peaches"; each day she "stops a postman going by"; she "takes a yellow cab uptown"; "Sees a show and rides back down"; window shops alone in the rain. Overall there is a dreamlike quality as story turns to poem and poem to poem-in-slow-motion. Before your eyes the vivid images congeal to symbols. Red and green candies, reds of autumn and greens of summer, red and green stop signals, and the red of anger and green of jealousy, in becoming a symbolic structure, unify the poem almost like a refrain.
Marcie is finally an aging child to whom a sad song has come. And Joni Mitchell herself is an aging prodigy. She is extraordinarily skillful in the music of language - its rhyming and its rhythms. She has a poet's hunger for words and a painter's deft skill with images. And most important she has a unique sensibility capable of creating "both sides" of a small, poignant world - its illusions and its realities.