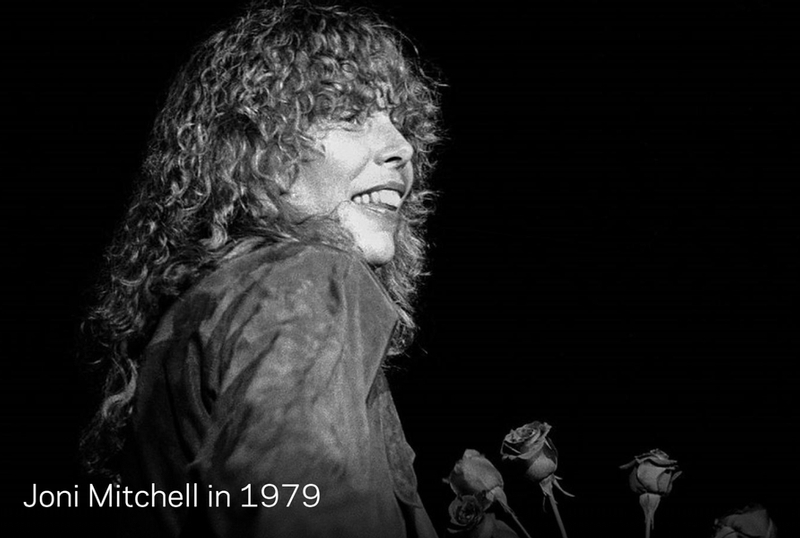 "I'm not, I'm not rich but, y'know, I've always had a few, some dollars in my pockets," declared Charles Mingus in the dialogue on the track "Coin In My Pocket," one of "raps" that capture some of the last bits of audio from the great jazz composer, who died 40 years ago on January 5, 1979. These five little samples of the bass legend talking are scattered across the divide of Mingus, Joni Mitchell's 10th LP was released in June of that year, and just six months after Mingus's passing.
"The first time I saw his face it shone up at me with a joyous mischief," she penned in the album's liner notes. "I liked him immediately. I had come to New York to hear six new songs he had written for me. I was honored! I was curious! It was as if I had been standing by a river - one toe in the water - feeling it out - and Charlie came by and pushed me in - 'sink or swim' - him laughing at me dog paddling around in the currents of black classical music."
Four of the six musical numbers on Mingus were direct collaborations between Mitchell and Mingus during the previous year, created as the jazz master was slowly succumbing to the effects of ALS. But as Mitchell herself had described to renowned music journalist Geoffrey Himes in the December 2007 issue of JazzTimes, even such a deteriorating condition as what's also called Lou Gehrig's Disease failed to tamp down the musician's fiery demeanor when she met him to go over the lyrics she put to his music.
"He said, 'You're singing the wrong note.'" Mitchell recalled. "I said, ''The word has to go up there. If it goes down the way you had it, it sounds resigned and it needs some optimism there.'
'But that's a square note,' he said. So I said, 'You know, Charles, that note's been square so long it's hip again.' He said, 'OK, motherf**ker, you put in your note and my note and two grace notes too.'"
After trying out the material in New York with a crew of top brass musicians that included such legends as Gerry Mulligan on baritone saxophone, Mahavishnu John McLaughlin on electric guitar, keyboardist Jan Hammer, bassists Stanley Clarke and Eddie Gomez and Tony Williams on drums, these mythological "Experimental Sessions" were quickly scrapped and Mitchell returned to Los Angeles. And it was back home in the creature comforts of A&M Studios in Hollywood that the proper Mingus LP came together - with the assistance of the one bassist other than Mingus who had a profound effect on her musical direction. Mitchell began recording with Jaco Pastorius on her 1976 LP Hejira, so by the time work began on the Mingus project they had an already established rapport, both in the studio and, for a brief time, romantically as well.
"I had peculiar ideas about what the bass should do," Mitchell told JazzTimes. "So I had real trouble with bass players. I started my arrangements in the middle where my voice and guitar are. Then I started overdubbing, up and up. So I said, 'Why can't I do the same thing going down?'
'You can't,' said the bass players. 'Why not?' I said. 'Because the bass has to play the root of the chord.'
'Why do you have to play the root of the chord?' I said. 'Why can't you play this note?'
And they said, 'You're trying to tell me how to play my instrument.' This one bass player told me, 'There's this really weird bass player down in Florida who plays with Bob Hope and Phyllis Diller. You'd probably like him.'"
On Mingus, it was Pastorius who served as the primary anchor to the threshold connecting Mitchell's songwriting and Mingus' compositions, his distinctive style on the electric bass largely serving as the nucleus to the music.
In fact, the formation of the supergroup assembled for Mingus was largely designed by Jaco, with the exception of his Weather Report bandmate Wayne Shorter, the sax legend who made his debut in the Joni-verse on 1977's Don Juan's Reckless Daughter and has appeared on every Mitchell album through 2002's Travelouge. Percussionist Don Alias was called back after his work on Don Juan as well. The bassist's first order of business was to insist upon his choice for a drummer, and he wanted Peter Erskine, who had just replaced Chester Thompson in Weather Report and with whom Pastorius shared a strong rhythmic rapport.
"Weather Report was definitely a door opener," Erskine writes in his book, No Beethoven, An Autobiography & Chronicle Of Weather Report. "Shortly after joining the band, I moved to Los Angeles from my temporary digs in Wewoka, Oklahoma (where my just-divorced Mom had moved in order to live close to her sister and niece. My parents wound up remarrying each other again a few years later!). By that time, I had already appeared on three recordings, thanks to Jaco and/or Wayne. When Joni Mitchell called Jaco to collaborate on the Charles Mingus project she had been working on and wrestling with, having recorded and re-recorded the same tunes with a number of different bands, Jaco insisted that I be the drummer. His insistence was good enough to get me on the album."
According to Erskine, it was also Pastorius' idea to reach out to Herbie Hancock, an invitation that would plant the seeds of a great friendship between the keyboard icon and Mitchell, which culminated in Hancock paying homage to her with his 2007 masterpiece, River: The Joni Letters.
"The pianist at the first day's session was British arranger Jeremy Lubbock," he writes in his book. "After we cut the first tune, 'Goodbye, Pork Pie Hat,' Jaco came over to me and said, 'Who is this guy? I'm going to call Herbie and see if he''s in town.' So Jaco ran off to the telephone and called Herbie Hancock and essentially invited him to the session to take over. I seem to recall that Jaco got Joni's blessings before or during this whole process; it all happened very quickly. The take with Jeremy was good, and of course it was awkward when he found out that Herbie was on his way, but by then it was too late. So he left and Herbie entered and promptly replaced the piano on 'Pork Pie' with Jaco smiling like crazy in the control room. We were all smiling and now all in on the conspiracy - no regrets and full steam ahead."
Clearly Jaco was justified in his demands, evidenced in the minimalist majesty of the Mingus-composed material like the pensive "A Chair In The Sky" and the avant swing of "Dry Cleaner From Des Moines," perhaps the best track on the album that displays the full range of this impromptu group cooking on all burners. However, it's the two songs that are all Joni's, "God Must Be A Boogie Man" and "The Wolf That Lives On Lindsey," that serve as perhaps the most spiritually connected to Mingus, it seems - and with a special emphasis on the former, according to her album notes on the original vinyl edition of Mingus.
"Time never ticked so loudly for me as it did this last year," she writes. "I wanted Charlie to witness the project's completion. He heard every song but one - GOD MUST BE A BOOGIE MAN. I know it would have given him a chuckle. Inspired by the first four pages of his autobiography - Beneath The Underdog - on the night of our first meeting - it was the last to actually take form - two days after his death."
After 40 years on Earth, Mingus has only grown into its own as one of the most important titles in the Joni Mitchell catalog, the fearlessness by which she channeled her love and appreciation for jazz and created a deeply personal and exploratory thematic work with little care as to what the record business, music critics, or anyone for that matter, had to say. And she was right in her intuitions: when you look at artists as varied as Björk, Solange, Esperanza Spalding and Aldous Harding taking her blueprints into the third decade of the 21st century.
"It was and remains a brave project and statement," Erskine replied via email. "Joni has always followed her artistic muse and her heart. It's an honest album, not the easiest to listen to but an essential piece of not only Joni's library of music, but of American music in the late 1970s."
Yet as Mitchell herself would recall on the 2003 audio biography Portrait of Jaco: The Early Years, the glue of this 1979 classic was the input of the greatest jazz bassist of his generation to help bring this final work of the greatest jazz bassist who ever lived (outside of Ron Carter, of course) into full adherence with the vision all three musicians shared in spirit.
"The bass players that I worked with before just kind of played through it like four beats to the bar, you know, polka-dotting along," Mitchell said. "And they couldn't see the shapes of the music or where the pressure points were. They couldn't grasp it. So you had to wait for somebody like Jaco to come along who had one foot in rock 'n' roll and one foot in jazz. And when Jaco came in on the dates, he was doing what I wanted, which was a more classical counterpoint to my melodies - and leaving space - it was personality that deserved to be in the foreground. We were conceptually kindred."