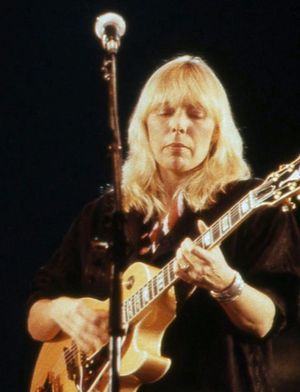 Canadian-born, Joni Mitchell moved to New York in early 1967 and worked in the folk scene in Greenwich Village, though she felt sure it was about to collapse. She started to compose in earnest and had the foresight to set up a music publishing company, which would ensure she got the money she was due from royalties.
As soon as she devoted her attention to composition, Mitchell started to struggle with the standard guitar tuning. She found it difficult to express the musical ideas in her head with the standard vocabulary. So after exploring open tunings, she began to experiment by tuning her guitar to a chord that expressed the emotion she was feeling, or the environment she was in, and then writing the song with that chord as the base tuning. She ignored key centres and standard chord progressions, just focusing on what she was trying to express. The one thing she was sure of was that the pop-standard major and minor triads were incapable of expressing much.
Mitchell's personal philosophy has a lot to do with a particular circle, the Native American Medicine Wheel, which traces a person's life from beginning to end, around the wheel. Part 1's overview of Joni Mitchell and her music follows Mitchell's life through in reference to the wheel.
At the time Mitchell's lyrics were mainly very candid accounts of her love-life and descriptions of the places she visited. Her philosophy of life, skill as a wordsmith and use of idiosyncratic guitar tunings are all in evidence.
Rebecca Blundell looks at Joni Mitchell's life in the early '70s from the recording of Blue which ended in Mitchell's emotional collapse, through her journey into more externally focussed lyrics and the social commentary of The Hissing of Summer Lawns. Musically, Mitchell moves from folk into rock and roll-influenced material, and starts working with jazz musicians
Rebecca Blundell looks at the three albums Joni Mitchell made with fretless jazz bass player Jaco Pastorius in the late '70s.
Mitchell's alter ego, the black man Art Nouveau made an appearance on the album cover of Don Juan's Reckless Daughter and intrigued the terminally ill Charles Mingus into asking her to work on his last project.
Mitchell explores elements of world music and jazz.
"If you had that house/ car/ bottle/ jar your lovers would look like movie stars" - Joni takes on the '80s.
Rebecca Blundell looks at Joni Mitchell's music in the '80s and her disdain for the social and political climate of the time.
Her new husband Larry Klein fuels her interest in the synthesizer age and becomes her co-producer.
Mitchell dedicated Wild Things Run Fast to Larry Klein with the words "Special thanks to Larry Klein for caring about and fussing over this record along with me".
Klein's sense of bass and drums was good for her, and he helped mix the album. The couple were married soon after its release. They then went on an almost year-long tour with Mitchell's new band, Refuge, which took in Europe, the US, Japan, Australia and even New Zealand. Mitchell and Klein released the film Refuge of the Roads that combined footage from the tour with home movies in 1984.
Rebecca Blundell looks at Joni Mitchell's recordings from the '90s onwards, a time where Mitchell was beginning to be formally acknowledged as one of the most important song-writers of the 20th Century.
Mitchell felt that the end of the century was a good time to reflect on the music that had gone on in the last hundred years, and for someone who was appalled with the mediocrity of the current scene, it was an opportunity to turn the clock back and offer a tribute to earlier singers and composers.
She chose songs that closely resonated with her own thoughts and experiences and that traced the stages of a relationship from beginning to end. She also included a couple of re-makes of her own songs, A Case of You and Both Sides Now. The album was recorded in London with a 70 piece orchestra including members of the LSO. The conductor and arranger was Vince Mendoza, and Larry Klein came along to co-produce the recording.
Rebecca Blundell looks at Joni Mitchell's recordings from the '90s onwards. Includes music from Turbulent Indigo; Taming the Tiger; Both Sides Now and Travelogue, on which Mitchell performs a selection of her own works with orchestral arrangements.
Mitchell has constantly evolved over her career, starting with folk, of which she says "I did it because it was easy, and I could make 15 bucks a night so I could smoke". She then moved on to Rock and Roll, where she says she wasn't enough of a druggie to fit in, then on to jazz and world influenced material, and finally into the use of classical orchestral arrangements. Joni Mitchell cannot be easily categorized, and along with some of the most memorable artists in music history, she has not been willing to compromise her vision for critics, fans, record labels, or anyone else who has had the temerity to criticise.