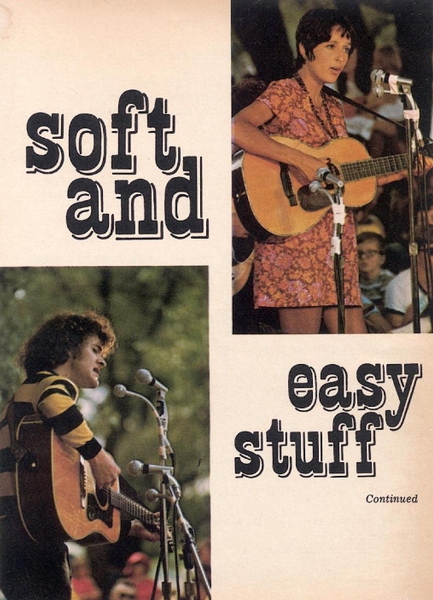 Saturday, the middle day of the 1969 Mariposa Folk Festival:
It was 6:15 p.m. and Joan Baez was sitting on the grass talking to various performers. Her sidekicks Jeffrey and Fondle with her earlier in the day, spoke against violence and sang beautifully for 2,000 people who had come to Toronto's Centre Island.
The night before, Mariposa held its most successful concert of the sometimes turbulent nine-year history. On the bill were Bruce Cockburn, Bonnie Dobson, Gilles Vigneault, Joni Mitchell and Ian and Sylvia. No one had to say it was all-Canadian. No one had to say anything except that the concert was very, very good.
While everyone rested on Saturday, white-capped David Acomba started rushing. He worked harder than anyone - organizing a TV crew, getting three cameras on the move, recording everything in all areas, and overseeing a 30-man crew, never having time to enjoy what was going on in front of the cameras. The results of their efforts are shown in a CBC special Sunday, Sept. 28 at 9 p.m.
"I've undertaken a subjective, impressionistic attack. There is not going to be a narrator telling you what you're seeing and what you should think. There is no point in excessive verbiage."
Acomba is in his late 20s. He was producer-director of CBLT's Sunday Morning last season and prior to that he had been a CBC stagehand. He worked for Take Thirty and studied filmmaking at the University of Southern California.
"If you're interested in communicating cooly - yeah it sounds like McLuhan but there is no other word for it - Mariposa is the place.
"We're covering practically everything here, concerts, workshops, impromptus, crowds, ferry boats, everything."
Strictly by coincidence, this was the most successful Mariposa Folk Festival ever held - 22,000 people on Toronto Island, $60,000 gross receipts and a lovely gentle mood.
Acomba is so thorough that he even re-staged a classic meeting of superior guitarists, David Rea and Doug Kershaw, that took place the night previously at a hotel, well after the concert ended.
"A lot of this film is going to be soft, easy stuff. We're covering what is presented, not the festival's history or how they set the stage up or how they sent out press releases.
"Nearly all the 100 performers will be shown. We're capturing more the excitement here, the feeling."
And to those who were there, the feeling was good.