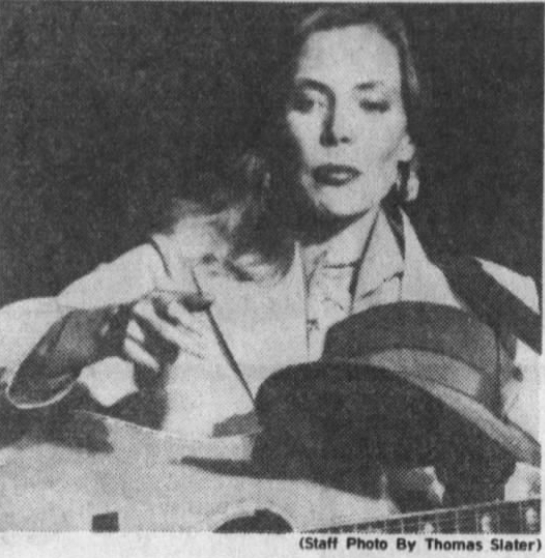 WILLIAMSBURG - Once in a while - and all too rarely - a reviewer attends a concert that makes up for all the others she (or he) has had to suffer through.
Joni Mitchell and the L. A. Express are one of these.
Playing to a sold-out audience at William and Mary Hall Friday night, the L. A. Express opened the evening with a solo set which proved there is potential in rock music.
Then, after a fifteen minute break, the houselights went down and a streak of light pierced the darkness and came to rest on a tall, slender woman in a three-piece suit and grey felt fedora. Her long, supple right hand fluttered over the strings of her guitar, and Joni Mitchell began a two-hour performance.
After gracing the audience with several of her classics, she introduced two new songs by telling the audience that she had to delete some of their favorites from her show to make room for new material.
"Think of it as seeing a new movie," she smiled at the sea of faces, "Instead of 'Gone With The Wind' for the hundredth time."
Old or new, Joni Mitchell writes words and music that are unique to her alone. Hers is not a concert to sit back and drift through. Each song is rich with intricate thoughts, attitudes and emotions. They are sometimes esoteric, sometimes ambiguous, often auto-biographical.
But there are universal truths contained in her lyrics, wrapped within the strong, fluctuating scales or her voice, which can leave very few spectators disinterested listeners. Singing of relationships between men and women on all levels, or capturing the longings of a friend, as she does in "Free Man In Paris," she molds into words what may have only been nebulous in one's own mind.
Miss Mitchell is also adept at creating specific word-images. Singing of love slowly withering in a financially successful suburban home, she describes the wallpaper boundaries: "yellow checks in the kitchen, climbing ivy in the bath."
In "Cayote" (sic) she offers one view of a rock star's life, which includes "temporary lovers, pills and powders," which enable him to exist through the nightmare of a tour.
As the evening progressed, she shed her fedora, then her suit coat, and, at the end, wrapped a feather boa around her neck for "Raised On Robbery."
She appeared for her encore relaxed and smiling, a lit cigarette in one hand. She gathered the bouquets of flowers which admirers had brought to the footlights and placed them to one side.
"You've been great, a very warm audience," she told the standing crowd. "The band and I both think so. And we think you're crazy!" With that, she began her one-song encore, entitled, appropriately enough, "Crazy."
Whether those remarks were spontaneous, or whether they are all part of the show is uncertain, although they were tailor-made for the audience Friday night. But then, with a performance like Miss Mitchell's and like that of the L.A. Express, being part of a receptive, attentive audience was doing what came naturally.