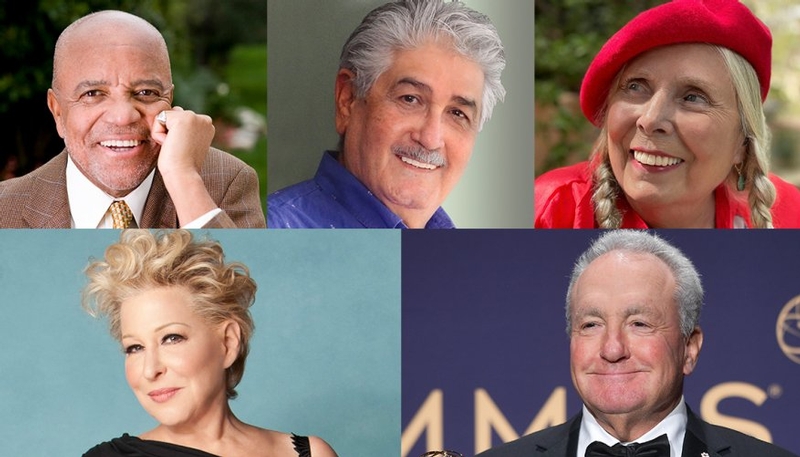 Joni Mitchell (age 78), Lorne Michaels (77), Berry Gordy (92), Bette Midler (76) and opera singer Justino Díaz (81) will be recognized Dec. 5 in Washington, D.C., at the 44th Kennedy Center Honors. The illustrious awards - "the Grammys for grownups," as they've been called - recognize artists whose lifetime achievements have made a lasting mark on American culture. The gala will be recorded for broadcast on CBS (Dec. 22, 9 p.m. ET) and available to stream live and on demand on Paramount+.
Get ready for the gala by catching up with the inductees, right here:
Joni Mitchell: The genius of heart and mind
Recovering from her 2015 aneurysm, the singer-songwriter who rivals Dylan is savoring the recent smash success of the 50th anniversary reissue of her classic album Blue, two box sets chronicling her career, and most of all, her Kennedy Center tribute. "I wish my mother and father were alive to see this," she said. "It's a long way from Saskatoon." A friend of hers told Closer Weekly: "She cried with happiness when she heard about the honor."
Bette Midler: The funniest great singer in America
Singer-actress Bette Midler has sold 30 million records and earned four Grammys, three Emmys, two Oscar nominations and two Tonys, but the Kennedy Center award may top them all. "I am stunned and grateful beyond words," she said. "For many years I have watched this broadcast celebrating the best talent in the performing arts that America has to offer, and I truly never imagined that I would find myself among these swans."
Berry Gordy: The father of Motown
Berry Gordy, the great-grandson of an enslaved Georgian, was inspired by his $86.40-a-week job on a Lincoln-Mercury assembly line to create a factory of hit tunes, which he named Motown (short for Motor Town), "a place where a kid off the street could walk in one door an unknown, go through a process and come out a star." It worked for Smokey Robinson, Stevie Wonder and the Supremes, who contributed to Motown's 180 number 1 hits and helped bridge racial gaps in a divisive time.
Lorne Michaels: The king of comedy
Lorne Michaels created and runs Saturday Night Live, TV's longest-running variety show and the most Emmy-nominated show in history. The only late-night show that has lasted longer is The Tonight Show, also now produced by Michaels. Today it's hosted by Jimmy Fallon, whose career Michaels boosted through SNL, as he did those of Eddie Murphy, Adam Sandler, Chris Rock, Tina Fey, Steve Martin and a glittering constellation of other comedians and actors.
Justino Diaz: First opera star to sing at Kennedy Center
Justino Diaz rose from modest beginnings in Puerto Rico to become one of the greatest bass-baritones in the opera business, with 400 performances at the Metropolitan Opera (including singing opposite Leontyne Price at the 1966 debut of the Metropolitan Opera at Lincoln Center). But the Kennedy Center Honors has a personal meaning for him. "It is especially thrilling for me because 50 years ago, I sang as the male lead in Ginastera's Beatrix Cenci on the opera house stage at the Kennedy Center's grand opening - the night after Bernstein's Mass. I was the first operatic voice to christen the walls of this wonderful institution all those years ago, and I am beyond honored to return to this stage to have such a distinction bestowed on me. I am humbled as I assume my place amongst so many wonderful peers and talented artists."
The 44th Annual Kennedy Center Honors will be telecast Dec. 22 on CBS at 9 p.m. ET.