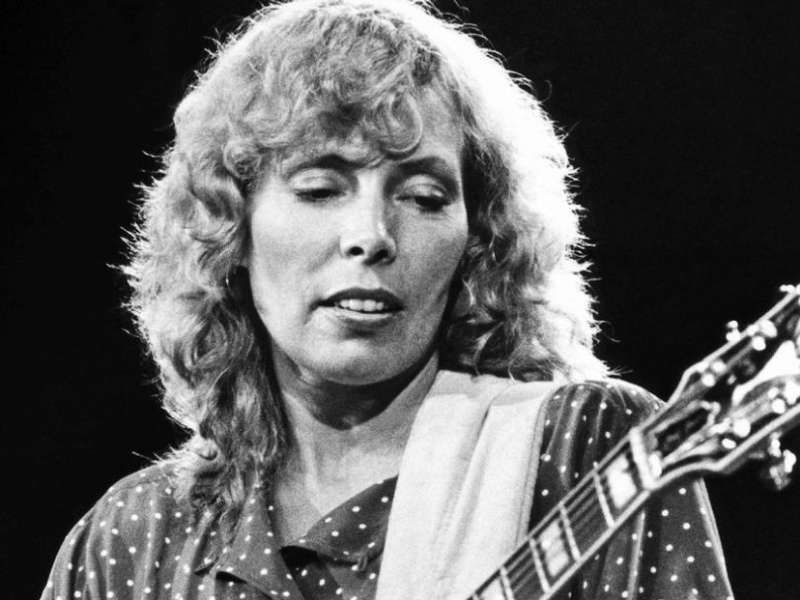 "This was a difficult but challenging project," Joni Mitchell wrote in the sleevenotes to her 1979 album, Mingus. "I was trying to please Charlie and still be true to myself." Mingus is one of the most unusual collaborations in musical history - both in gestation and in the sound of the finished product. It was the definite closure to the career of one of the partners, and a chalk mark ending the experimental era of the other.
Charles Mingus was not only a fearsome jazz musician, bandleader, composer, and improviser - he was a relentless sonic traveller, always looking forward. In the 70s, as he entered his 50s, he was particularly interested in the work of Arnold Schoenberg and the outer edges of composition. Mingus' focus on composing rather than playing had been accelerated by his recent diagnosis with motor neurone disease. As well as everything else that this degenerative disease forced upon him, it left him unable to hold his signature instrument - the upright bass.
Joni Mitchell was much younger than Mingus, in her mid-30s, and fresh from the release of her 1977 double-album, Don Juan's Reckless Daughter. That record had been her most experimental and jazz-influenced release to date. Exploring complex textures and rhythms with a diverse collection of artists, including Chaka Khan and members of the jazz-fusion band Weather Report, Don Juan's Reckless Daughter had also been an unexpected success. It sold half a million copies and gave Mitchell confidence to continue on her outré curve.
Mingus knew all about an outré curve - he had curved his whole life. Despite an irascible, truculent, uncompromising personality, the bassist inspired loyalty due to the sheer quality of his dense body of work. One such loyal friend was the Italian music and film producer
Daniele Senatore. Senatore had commissioned Mingus to write the score for a film, 1976's Todo Moro, but though Mingus's music wasn't used, the two men remained close. Senatore knew and admired Don Juan's Reckless Daughter, particularly the epic Paprika Plains and suggested to Mingus that Mitchell could make for a potential collaborator. Given the limitations forced on the bassist due to his condition, working with a lyricist and pathfinder such as Mitchell was immediately appealing. Mingus knew his life would probably end prematurely, and he didn't want to go without exploring some final frontiers.
Initially, Mitchell was surprised and flattered at the invitation, yet somewhat guarded. Mingus' first idea for their collaboration, a work based on TS Eliot's poem collection Four Quartets, unimpressed her. She wavered as to whether she should work with Mingus at all. But that immediately changed when she met the great man. He told her that the strings on Paprika Plains - regarded as one of the best Joni Mitchell songs - were out of tune; she agreed, and said he was the first person to notice.
From there, Mingus started to compose for Mitchell. All the songs were called Joni, with a number at the end to distinguish them. The pieces themselves were challenging, with unusual chord structures. Mingus also asked Mitchell to compose lyrics for Goodbye Pork Pie Hat, an earlier composition originally released on his landmark 1959 album, Mingus Ah Um. For the first time, Mitchell was not only writing lyrics for herself - her words had to respect the mercurial bandleader, too.
Mingus and Mitchell spent time together - Mitchell observing, understanding as best she could the gravity of the death facing her collaborator while the untied threads of his life swirled around him. Mitchell's illustrations from this period, reproduced as part of the album's artwork, reveal not only the great Mingus, but also Mitchell's process of watching him.
Initially, she struggled lyrically. "Some of them were difficult themes," Mitchell said in 1979, at the time of the album's release. "Some of them I started and I deviated slightly from the theme that Charlie suggested." The track that became A Chair In The Sky is directly about Mingus facing death; The Dry Cleaner From Des Moines is more elusive, the luck of life its theme - whether in love, gambling, or - as implied - in how long you get on this Earth. Mitchell also began to search further afield for inspiration, rather than relying on what Mingus was directly feeding her. She read his sprawling, fantastical autobiography Beneath The Underdog, which became the foundation for God Must Be A Boogie Man, the final song written for the album. The idea also grew for Mingus' voice to be present on the record, via home recordings - the "rap" sections were taken from spoken-word tapes provided to Mitchell by Sue Graham Mingus, Charles' wife.
But Mingus, as Mitchell expected, was not easy to please. If she changed something he had written, he scolded her. She worked hard to respect his compositions, yet as the Mingus album developed, Mitchell began to assert herself more. When recording began, the first sessions were helmed by New York musicians chosen mainly by Mingus - greats including saxophonist Gerry Mulligan, keyboardist Jan Hammer and guitarist John McLaughlin. "They helped me to search," Mitchell acknowledged in the album's sleevenotes, and she credited these musicians on the record, even though the sessions were not used.
For the actual recording, and in a clear indication of Mitchell's growing confidence to make her mark, she re-connected with Weather Report and hired Herbie Hancock on electric piano. These musicians were much more Mitchell than Mingus (who didn't care for electric sounds in jazz); the music is softer, slower than on Don Juan's Reckless Daughter - appropriate for a requiem for the dying - yet it is unmistakably Mitchell. And, in the end, the album was not co-credited to Charles Mingus and Joni Mitchell: released on 13 June 1979, Mingus was a Joni Mitchell solo album.
Charles Mingus died in January 1979, five months before Mingus was released. Mitchell had succeeded in creating Mingus' elegy while remaining true to her own artistic impulses. "I was after something personal - something musical - something indescribable," she wrote in the sleevenotes. As the 80s began, Joni Mitchell started to retreat from experimentation. Mingus, therefore, is not only an elegy for the dying jazz icon, but it is also the final hurrah of Mitchell's expansive, creative decade - the crowning album of one of the most innovative periods of any artist.