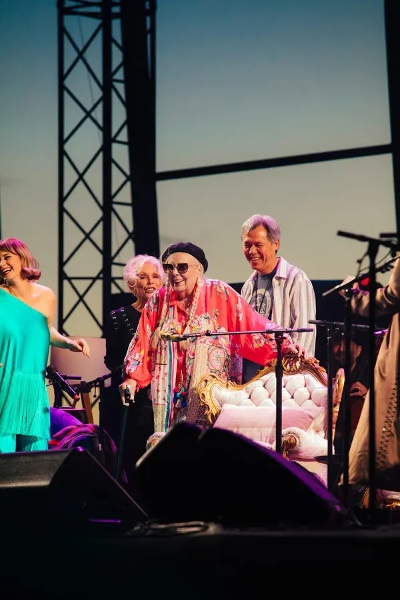 "You're stardust, and golden," a beaming Joni Mitchell told a crowd of more than 20,000 on Saturday night at the scenic Washington venue the Gorge Amphitheater, during her first ticketed live performance in more than 20 years.
Mitchell, 79, was quoting "Woodstock," the song she'd written in 1969 in the heady days after the culture-shifting festival, but she was now describing a more modern concert phenomenon: a sea of lights from cellphones held aloft in the dark. Many performers have probably become jaded by the sight, but that is how long it had been since Mitchell played a proper gig: The image of cellphones illuminating an arena was, to her, unfamiliar and inspiring. "You look like a fallen constellation," she told the crowd, ad-libbing some poetry. It was but one miracle in a night spoiling with them.
Last July, Mitchell stunned the music world when she made a surprise appearance at the Newport Folk Festival, her first public performance since a near-fatal brain aneurysm in 2015. That 13-song set at Newport had been called a "Joni Jam," organized by the singer-songwriter Brandi Carlile and meant to replicate the loose, wine-fueled sessions that Mitchell has hosted for other musicians in her California living room in recent years. Newport had been a show of resilience - here was a woman who'd had to relearn how to speak, singing - but also one of intergenerational support. "She's doing something very, very brave right now for you guys," Carlile told the festival audience. "This is a trust fall." Mitchell stands next to her throne, with several other performers behind her: a young blond woman in a teal dress, an older woman in a black dress and a man in a striped button-up shirt over a T-shirt.
But Saturday night's performance at the Gorge - capping the second day of Carlile's Echoes Through the Canyon festival - was something else entirely. It was, for one thing, a jam-band-worthy marathon: nearly three hours, 24 songs, including an encore during which Mitchell played electric guitar. (Carlile, 42, who has been championing her idol's return, joked with Mitchell, "You're always the last one up.")
Above all, though, it was a resurrection. After the first few songs - including rousing, singalong renditions of "Big Yellow Taxi" and "Raised on Robbery" - a recognition seemed to ripple through the crowd: Mitchell's voice had grown even stronger, richer and nimbler in the year since those Newport videos went viral. In that previous performance, Carlile had often guided Mitchell or taken on lead vocal duties herself. But at the Gorge, Mitchell was once again in control. There was a renewed ease in her movement across melodies, and a pearly purity in her tone. It was breathtaking. To hear Mitchell hit certain notes again in that inimitable voice was like glimpsing, in the wild, a magnificent bird long feared to have gone extinct.
Mitchell held court in pigtail braids, chic sunglasses and a floral silk shirt that billowed in the canyon winds. As the sun set, the sky itself looked like one of her prismatic paintings. The Gorge stage was decorated to replicate the casual warmth of a hang in Mitchell's living room: couches, a few lamps and the hostess sitting in a velvety chair, flanked by disciples on either side.
Part of any Joni Jam is not just singing with Mitchell, Carlile told the crowd, but singing for her. Many of the talented musicians onstage were, fortunately, up to the task; they placed reverent covers like handwritten mash notes at her feet. Mitchell's fellow Canadian Sarah McLachlan sat at the piano for a faithful and stirring reading of "Blue." Annie Lennox paid tribute with a haunting, synth-driven rendition of "Ladies of the Canyon." Wendy Melvoin and Lisa Coleman, longtime members of Prince's backing band the Revolution, offered up the deep cut "A Strange Boy," from Mitchell's 1976 travelogue "Hejira." Melvoin said, "One of the reasons that Prince hired Lisa and I was that we sounded like Joni."
A wide shot of the full stage, flanked by two large video screens showing images of Mitchell in her chair, against the setting sun.
Concertgoers had traveled from all over - Mitchell shouted out factions from Japan, San Francisco and even her hometown, Saskatoon, Saskatchewan - for the rare opportunity to see her in concert. Some attendees wore homemade Mitchell shirts or jackets. Red berets embroidered with her name were among the merchandise for sale.
It was a vast, eclectic set list: Not just the hits or the crowd-pleasers, but impassioned re-imaginings of material from across Mitchell's catalog, like the romantically tranquil title track from the 1991 album "Night Ride Home" and the fiery social commentary of "Sex Kills" from 1994. A clear highlight was "Amelia," a plangent, airy meditation on freedom and flight. Mitchell's vocals sounded especially muscular, and the musician and producer Blake Mills accompanied her, with grace and agility, on Mitchell's own guitar. Backing vocals from Lucius, percussion from Marcus Mumford, and guitar and vocals from Celisse Henderson (whom Mitchell, admiringly, called "a lady Jimi Hendrix"), among other musicians, rounded out the set's lush sound.
Mitchell can't hit those canary-like high notes anymore. So what. As she put it Saturday night in a sonorously sung "Both Sides Now," "Something's lost but something's gained in living every day." What Mitchell has gained is a fine command of her sumptuous lower register - an androgynous, omniscient voice, like a wise, benevolent god. Given this unexpected third act as a performer, Mitchell has become resourceful with what others may see as potential limitations. As she and the others around her sang, the cane she uses to aid in her mobility - on Saturday it was topped by a glittering wolf's head - became both a percussion instrument and a royal staff.
As the night went on, Mitchell became increasingly chatty, telling delicious stories about friends and peers like Bob Dylan and Van Morrison. She recalled the time when Prince had invited her onstage to sing during the "Purple Rain" tour, and she confessed she didn't know the words to the title track; he assured her there were really only two. Though Mitchell rivals any rock icon, she was not always afforded the respect of her male contemporaries throughout her career. Lennox, in one of the night's most heartfelt monologues, acknowledged, "Back in the day, there were so few of us women doing this thing that we've been doing."
Since Mitchell's recovery from her aneurysm, though, the world seems to be making up for lost time, belatedly recognizing her extraordinary influence on popular music and bestowing upon her one accolade after another. In the past several years, she has received a Kennedy Center Honor, the Recording Academy's MusiCares Person of the Year award, and, most recently, the Library of Congress's Gershwin Prize for Popular Song.
So many laurels hung around one's neck can easily become heavy, but Mitchell has welcomed all of this fanfare with an amused lightness - a shimmy, a chortle and a fresh round of pinot grigio. And, of course, another song. She sang a few lively covers of classics from what she called her "rock 'n' roll dancing days" - "Love Potion No. 9," "Why Do Fools Fall in Love" - but closed with what she introduced as a "Frank Sinatra song," "Young at Heart."
"Vive la old age!" she had exclaimed with a laugh earlier in the night. As if that wasn't what she'd already been saying between the lines for this entire, astonishing set.