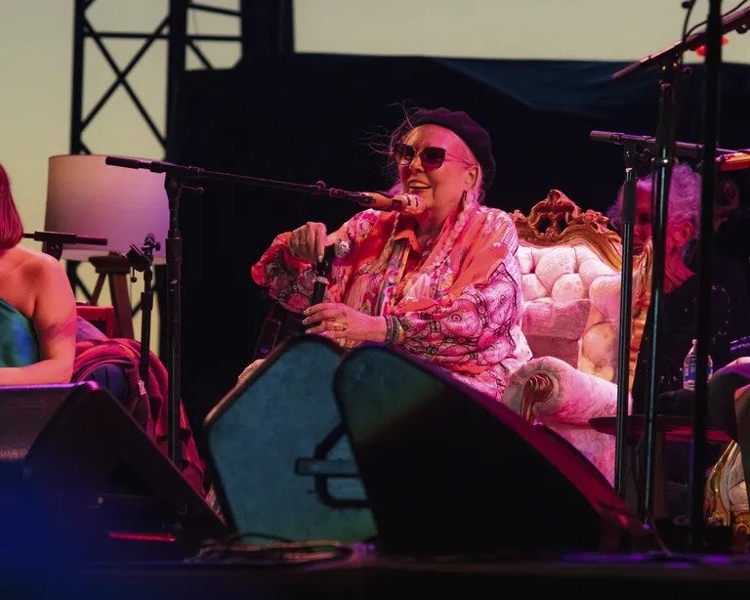 GEORGE, Grant County - An almost nervous energy settled in among the 26,000 or so fans who packed the Gorge Amphitheatre on Saturday. For years, the legions of Joni Mitchell devotees thought they would never be able to see one of the greatest living songwriters in concert again. Yet, two decades after Mitchell retired from touring and eight years removed from her life-threatening brain aneurysm, fans who made the pilgrimage to the landmark Washington venue were minutes away from witnessing music history.
That collective anxiousness burst into a euphoric release at the opening notes of "Big Yellow Taxi," one of Mitchell's oft-interpreted classics, as Mitchell and the 20 or so all-star musician friends who doubled as her backing band turned the sprightly tune into a big ol' family singalong. The crowd could barely contain their elation, hushing briefly when Mitchell's anchor vocals were unaccompanied, only to erupt again the second the rest of the choir rejoined her.
As awestruck fans stood for an extended ovation after the opening song, the 79-year-old's delighted laughter seemed to make them cheer even harder.
After a surprise set with Brandi Carlile and friends at last year's Newport Folk Festival, performing as Joni Mitchell & the Joni Jam, Saturday marked Mitchell's first proper, ticketed headlining concert in years and fans traveled from as far as Australia and England, San Francisco and Saskatoon (Mitchell's hometown in Saskatchewan) for the monumental occasion.
The Newport set and last night's show, the centerpiece of Carlile's Echoes Through the Canyon weekend, were extensions of private jam sessions Mitchell's held at her house the past four years while recovering from the 2015 aneurysm that had her unable to speak or walk, let alone sing and play guitar. The monthly jams, which Carlile eventually helped wrangle, paved the road for Mitchell's public return to music as she relearned to sing and play guitar.
Saturday night was less a traditional concert as it was a chance to communally fete the wide-ranging canon of a generational artist and bask in Mitchell's glow for 2 hours and 40 minutes. Carlile put it best, or at least more poetically, in her prefacing remarks on stage, likening the intimate Joni Jam to peering into the tiny cabin inside of a snow globe.
The stage was set up like a living room, replete with couches, lamps and end tables, and even framed pet photos. Wearing sunglasses and a pink floral-print shirt, Mitchell sat front and center with Carlile in plush easy chairs, bantering like old friends sipping pinot grigio when not singing into matching golden microphones. "When you come to Washington, you drink out of a Yeti," Carlile crowed, filling her friend's tumbler. (Mitchell later teased Carlile for drinking straight from the bottle.)
The Joni Jam had the vibe of a campfire hootenanny crossed with a music nerd's dream storyteller sesh. Between songs, Carlile played interviewer/fan-girl-in-chief, getting Mitchell going on old rock 'n' roll stories - knee-slapping quests for wolf-howl recordings, spacing lyrics with Bob Dylan, with whom she played the Gorge in '98 - and the inspiration behind some of Mitchell's most revered songs.
With the wine poured, Mitchell vigorously tapped her cane on the giant stage to "Raised on Robbery" - a song about a prostitute in a Saskatoon hotel, she'd explain afterward. Mitchell's sassy vocals matched the hard-kicking tempo on one of the night's reveling rockers, before cooling off with "Come in From the Cold" and the hazy soft rocker "Amelia." Mitchell's isolated voice sounded stronger on the latter, as if some of the first few gang-vocal tunes cleared a runway for the guest of honor to take off, just as the sunlight faded into an amber glow lingering over the canyon behind her.
Mitchell's all-star supporting cast - which included the Hanseroth twins, Marcus Mumford on percussion and, in an embarrassment of vocal riches, Annie Lennox and Sarah McLachlan as backup singers - formed a half circle around Mitchell and Carlile, each member getting their chance to shine and heap praise on the woman of the hour.
When Mitchell wasn't fronting a tune, the Joni Jammers took turns leading songs, alternately singing with and for the revered music icon - an intimidating proposition, noted Carlile, who opened with a stripped-down acoustic set. Frequent Carlile collaborator Celisse Henderson, a singer/guitar ace who Mitchell likened to a female Jimi Hendrix (albeit a much better singer), was prominently featured through the night. Her emotive guitar solo accented the bluesy "Summertime," which Mitchell used to transport the audience to a smoky speak-easy. The low-lit number was the first song Mitchell sang in their private jam sessions, making the Gorge rendition something of a full-circle moment.
Sarah McLachlan's faithful, arresting turn at "Blue" was another guest-led standout. Carlile, a late-blooming Mitchell fan who grew up seeing McLachlan and Lilith Fair at the Gorge, was clearly in heaven, leaning back in her plush chair, eyes closed and mouthing along with every word, breaking only to pull from her wine bottle.
While Mitchell's voice has naturally changed since cutting her most celebrated work in the '70s, she sang with soul, verve and stamina throughout the all-hands marathon set. She even had an instrumental turn in the spotlight, handling lead guitar on "Just Like This Train" (as she did at Newport) and "If" during the encore.
The only time it was truly apparent her last tour was 20 years ago was when she questioned what all the lights in the crowd were during a gospel-flourished "Shine," which saw Carlile cutting loose vocally after spending much of the set as more of a supporting voice alongside Mitchell's. "That was quite a spectacle, all the little lights from your cellphones," she said with amusement.
Hopefully she sees them again soon.