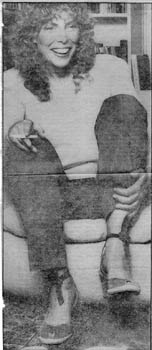 We have looked at Joni Mitchell from many sides now. She stands, slim and pale, slender and fragile, as a vital monument to the musical and lyrical communication of concepts and emotions.
New aspects of her image are gradually revealed. Because other artists - Judy Collins, Buffy Saint-Marie, Dave Van Ronk - had brought us her songs perhaps a little before her own first album was released, she reached us as a composer earlier than she became known as a performer. Over the past decade, different sides of Joni Mitchell have been shown through her own records, most of which, through some freak of the unnatural, have enjoyed a measure of commercial success on a level with their artistry.
Now comes the latest layer to unfold: Mitchell the appreciator of jazz, Mitchell involved and participating, as co-writer with the late Charles Mingus, as collaborator with such musicians as Herbie Hancock, Wayne Shorter, Jaco Pastorius and Don Alias in an album called "Mingus" (Asylum S-505) that is quite unlike anything she has previously committed to tape.
Charles Mingus (Born Nogales, Arizona, 4/22/22; died Cuernavaca, Mexico, 1/5/79, of Lou Gehrig's disease) was a dominant jazz figure as composer, bass virtuoso and overall catalyst in Los Angeles during the 1940s and in New York for the early '50s. Joni Mitchell will be appearing Friday in the Mingus tribute during the Playboy Jazz Festival at the Hollywood Bowl. Starting August 3rd, she'll be on the road, singing some of the Mingus material, with a jazz-oriented group that will include three musicians well known for their work with Weather Report.
Sitting in the small cluttered office of her manager in West Hollywood, she talked freely and articulately on a subject about which she is far more knowledgeable than has been generally realised: "My jazz background began with one of the early Lambert, Hendricks and Ross albums, the one called 'The Hottest New Sound in Jazz.' It was hard to find in Canada, so I saved up and bought it at a bootleg price. I considered that album to be my Beatles. I learned every song off of it, and I don't think there is another album anywhere - including my own - on which I know every note and word of every song.
"I couldn't do 'Cloudburst,' because of the very fast scat singing, but I did record two numbers out of that set: 'Twisted,' which was in the 'Court and Spark' album, and 'Centrepiece,' which was incorporated with 'Harry's House' in the 'Hissing of Summer Lawns' album."
The jazz vocal trio impressed her at a time, Mitchell says, when rock 'n' roll seemed to be winding down, just before the Beatles came along to revitalise it. It was during that ebb, she recalled, that folk music was able to come into its full power.
"I was also impressed by some of the Miles Davis albums; first 'Sketches of Spain,' with Gil Evans and the large orchestra; but later, Miles' smaller combo things like 'Nefertiti' and 'In a Silent Way' became just about my all time favourites in any field of music. They were my private music, the albums I loved to listen to on my own. I never thought about making that my kind of music."
The association with Mingus came about at the instigation of the bassist-composer. "Mingus was a legend, of course, I'd heard of him as far back as my high school days. Then years later, John Guerin, the drummer, played me a record of Mingus' 'Goodbye Pork Pie Hat,' the elegy for Lester Young, but it wasn't until many years later, when I began to learn the piece for this album, that I really saw the beauty of it."
Mingus' interest in Mitchell, she found out later, was triggered by "Paprika Plains" from her "Don Juan's Reckless Daughter" album. "In the middle of it I had this passage for about seven minutes of improvisational playing. Charles apparently heard in it some kind of strength, and an adventuresome spirit, because I had been trying for years to extend the limits of what constitutes a song."
Word reached her a couple of years ago that Mingus had something in mind for her to do. When she called him, Mingus told her that he had an idea for a piece of music based on an excerpt from TS Elliot's "Four Quartets," with a full orchestra, and overlaid on it a bass and guitar, with a reader quoting Elliot. "He wanted me to distil Elliot down into street language, and sing it mixed with this reader."
Though Mitchell was fascinated by the idea, and spent time reading the Elliot book, she decided that it was not feasible - "I called Charles back and told him I couldn't do it; it seemed like a kind of sacrilege."
In April 1977, Mingus called with the news that he had written six songs with her in mind, and wanted her to write words for them and sing them. "I went to visit him and liked him immediately. He was already sick and in a wheelchair, but still very vital and concerned.
"We started searching through his material, and he said, 'Now this one has five different melodies.' I said, 'You mean you want me to write five different sets of lyrics?' He said yes, then put one on and it was the fastest boogie-est thing I'd ever heard, and it was impossible! So this was like a joke on me; he was testing and teasing me, but in good fun."
Mitchell made several visits to the Mingus home in New York, listening to some of the his older themes on records as well as discussing the newer works and his lyrical ideas for them.
"Then, because he had become very seriously ill, he and his wife Sue went to Mexico, to a faith healer, and during that time I spent 10 days with them. At that point his speech had deteriorated severely. Every night he would say to me, 'I want to talk to you about the music,' and every day it would be too difficult. So some of what he had to tell me remained a mystery.
"Sue gave me a lot of tapes and interviews, and they were thrilling to me, because so much of what he felt and described was kindred to my own feelings. He articulated lessons that were laid on him by Fats Navarro, the trumpeter, and others."
Not all of the music Mingus had in mind for Mitchell to work on turned out to be suitable. "Of the melodies he gave me, two I never could get into, because they were too idiomatic for me. A third one was extremely beautiful, but I couldn't get into that either because the theme was extremely difficult."
Mingus referred her to a passage in his autobiography, "Beneath the Underdog," in which there was a discourse with Navarro about God. "It was his own metaphorical description of God and relationship to God. I just couldn't lift that literally and make it adhere to his melody. That threw me into my own confrontation with my own metaphors about God and it boggled by mind - it fried my brain. So that one, and the two others, never got finished.
" The four I did complete were all in some way inspired; they came to me in mysterious ways."
Mitchell completed the album by adding two works to which she supplied her own melodies: "One is 'The Wolf that Lives in Lindsey," a strange piece of music that I had been writing before I met Charles. I included it because I the wolves constituted his musical concept about cacophony. Someone found me an actual tape to use, of wolves singing away, and it's beyond dissonance - it transcends dissonance."
Mitchell also was the sole writer of "God Must Be a Boogie Man," based on the first four pages of Mingus' book. "I tried to take those pages and use the meter and everything to the melodies of his that I was using, but the words wouldn't adhere. So then I let them have their own syncopation and wrote my own melody."
The album's brief documentary rap passages, Mitchell says, are of special significance. "I love the spirit of the birthday song, which establishes the year he was born; that's why I used it as the opening cut. And long before he became ill, Charles knew just how he wanted his funeral to be carried out, so I had to include that.
"I also like Sue's presence on the tapes. She's a wonderful woman; she was very giving and great with Charles. Towards the end, he had a few pleasures he could still enjoy. He loved to eat, and he liked to ride in the car; as a matter of fact, that was the only time he could sleep. Sue and a nurse and his son would load him into the van; the outings to the restaurant were something he really looked forward to.
"Finally it got to the point where he couldn't swallow any more. When even that pleasure was denied him, I think he sort of gave himself a heart attack, and died.
"Sue told me something beautiful. Charles died at the age of 56 in Mexico. That same day, 56 whales beached themselves on a coast of Mexico, and not knowing what to do with them, the people there burned them. So 56 whales were cremated the same day as Charles.
"There was a lot of mojo in his life - there's a lot of mojo in my life too. Charles was a very complex person, and when it came down to the finished album, I felt that we didn't have a complete portrait. I wished that every song had been dedicated to a certain aspect of his personality. But in a way this did happen indirectly."
Mitchell was particularly impressed with the contribution to her album of Wayne Shorter, whose keening soprano sax is a dominant element. "Wayne plays so beautifully, works so brilliantly off of lyrics; he has such a pictorial mind that it's as if he was talking. He's such a metaphorical player; I loved the way he related to me. He especially made me feel like an integral band member."
This integration of singer and instrumentalists, she feels, is rarely achieved. "Even the great jazz vocalists tend to be fronting a track, whereas in this music, we're all mimicking each other. We're really entwined."
Her expectations for the record are guarded. "I'd be surprised if it wasn't well accepted in the jazz world, because it contains all the best elements of that music: It's very spontaneous, creative and fresh. As for the pop field, I dare not make any predictions. I hope people will find it accessible, but I know how intimidating great musicianship is to a lot of people."
Having established a firm jazz relationship through this venture, will she undertake anything else along comparable lines?
"I'm not sure," said Joni Mitchell slowly. "Eventually, if not in the next album, I'd like to experiment more with rhythm. I might do a completely acoustic album, almost like a folk album, but harmonically it would be different from folk music.
"You know, pigeonholes all seem funny to me. I feel like one of those lifer-educational types that just keep going for letters after their name. I want the full hyphenate - folk-rock-country-jazz-classic…..so finally, when you get all the hyphens in, maybe they'll drop them all and get down to just some American music."