Black Crow
Guitar chords transcribed by Mark Domyancich and Howard Wright
Tuning: BbBbDbFAbBb (other transcriptions in this same tuning)
"Joni" Tuning: Bb123432
Tuning pattern: xo3432 (others in this same pattern)

Download/View Transcription (PDF)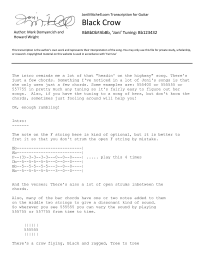 Author Notes:
The intro reminds me a lot of that "headin' on the highway" song. There's just a
few chords. Something I've noticed in a lot of Joni's songs is that she only uses
just a few chords. Some examples are: 555400 or 555555 or 557755 in pretty much
any tuning so it's fairly easy to figure out her songs. Also, if you have the
tuning to a song of hers, but don't know the chords, sometimes just fooling
around will help you!

OK, enough rambling!