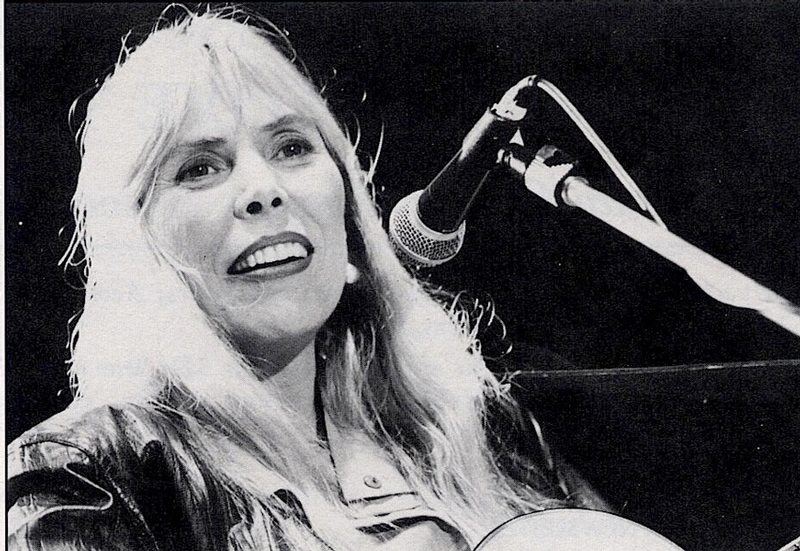 "WOODSTOCK STARTED IN THE mud, too," said Jim Rissmiller, the producer of "The Troubadours of Folk," a two-day festival in Los Angeles in June, presented in part by Rhino Records. And though the rain did lend a dark and muddy opening to this festival, by the afternoon the sun was shining brightly, naked kids were playing in the mud, and the folk spirit was expansive. Although folk's elder statesman, Pete Seeger, was absent, the festival hosted many of the greatest folk performers of our time, both new and old.

This event was the culmination of a steady resurgence of acoustic music in L.A. that has been building for a few years. One of the first signs of this trend was when the Troubadour, which had long been the bastion of great folk music in L.A. but had shifted to presenting only rock bands, began poking holes in its schedule of heavy metal to again hold acoustic nights. Soon other coffee houses and clubs presenting acoustic music began popping up all over the city, and the National Academy of Songwriters launched a monthly showcase called "The Acoustic Underground" at the Troubadour, featuring a wealth of talent and sold-out audiences. And now, with the Troubadours of Folk show, this acoustic revival seems unstoppable.

The festival was full of wonderful moments, but here's an overview of some of the highlights: Odetta filled the arena with her amazing voice, which seems only to have grown richer over the years. Janis Ian performed a beautiful, crystalline version of her classic "At 17," as Odetta rushed to the side of the stage to listen, so moved that she softly began to cry. John Prine performed his classic song "Angel from Montgomery" with able support from Bonnie Raitt; and Roger McGuinn, of the Byrds, played his famous, jangling 12-string Rickenbacker, joined by his friend Tom Petty on "Turn, Turn, Turn."

Joni Mitchell wrapped up the first day with a rare and wonderful set. "People have been driving by me all week yelling out requests," she said with a smile. She played famous songs such as "Big Yellow Taxi" and "Amelia," as well as some incredible new ones, including "Last Chance Lost," "Borderline," and "Turbulent Indigo." Rumors that Mitchell's voice is not what it once was proved to be far from the truth; both her singing and distinctively rhythmic, open-tuned guitar playing were as strong and magical as ever, as was her connection with the audience.

Backstage, the performers discussed their feelings about this folk music revival. "All of us have gotten even better over the years," Odetta said. "We've matured like fine wine. Not just as performers, but as people." Joni Mitchell said that she only thought of herself as a folksinger for the few years in the early '60s before she started writing songs. "After that my influences came from many areas, from Edith Piaf to Miles Davis to Debussy and Satie."

Bob Gibson of Gibson and Camp said, "I think when things start getting really rough in this country, people look for their roots and start going back to their own music again. It's great." John Prine was less committal. "If this show brings people back to folk music, great. If not, that's OK, too. I'll keep doing what I do no matter what."

And Richie Havens, who was the first performer at Woodstock (and who played for almost three hours that morning because the other acts had not yet been flown in), took the long view. "It doesn't surprise me at all," he said with a wistful laugh. "It's kind of a saturation process. What I've been seeing all along is that this genre has moved around. We used to be in villages all around the world. Then in the early '70s all the coffeehouses disappeared and this music ended up on campuses. And at this particular point you have the new kids in college really coming back to the meaning of this movement."

And what is the meaning of this movement, the lesson to be learned from the legacy of the'60s? "There's only one lesson," Havens answered, "and that is that people became better and more open. A generation took it upon itself to speak out, and ever since then the world has changed. Then, folk was the only message music. Today, all music is message music."