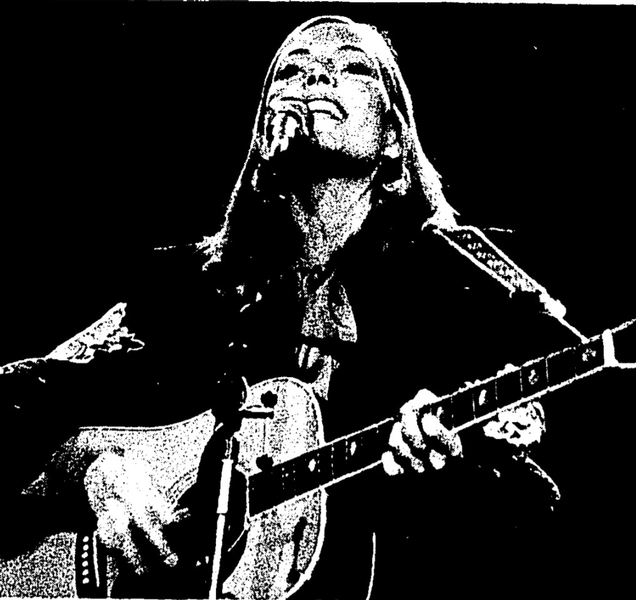 Blue and red stage lights flicked on, and there she stood, dressed in a fluid black pant suit. She gave her guitar one sharp pat, then began to play, and the sell-out crowd went afire at the sweet, mellow tones of Joni Mitchell.
Excitedly she sang "Help Me," her body swaying to the tune of its potent message.
Mitchell was on time, in tune and in touch for the evening, as she performed before 8,000 persons at Memorial Auditorium Monday, accompanied by the creative ensemble, The L.A. Express (minus star sax player Tom Scott). Many of the 18 ballads she sang constituted a soft, silvery bellowing sound.
Mitchell, making her first Dallas concert appearance in nearly two years, then went into "Free Man in Paris," getting completely into her music and carrying the audience into a trance.
"Big Yellow Taxi" followed with Mitchell going through many changes on her guitar.
Before almost every number, Mitchell tuned her guitar to that of lead guitarist Robben Ford, taking as much time as needed; nonetheless she delivered precision music making up for lost time. She did not make any excuses and the crowd didn't seem to mind.
Then she sat preparing to express her poetic forces on a baby grand piano, as the audience shouted with glee and gratitude. She started on "Shades of Scarlet Conquering," from her 1975 release, "The Hissing of Summer Lawns," in the soft way that she delivered six numbers during her two-hour performance. All the tunes for the evening were written exclusively by Mitchell.
"Edith and the Kingpin," and "Harry's House - Centerpiece" were next on her agenda. The acoustics of the hall and Mitchell's well-groomed voice blended perfectly.
She also did a showcase from "Court and Spark," the 1974 release that included "Troubled Child," a winner, and a foot-tapping exhausting number, "Raised on Robbery."
The unique clamor of "Jungle Line" ended the evening with constant drumming and congas.