Download/View Transcription (PDF)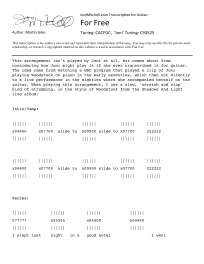 Author Notes:
This arrangement isn't played by Joni at all, but comes about from considering how
Joni might play it if she ever transcribed it for guitar. The idea came from watching a
BBC program that played a clip of Joni playing Woodstock on piano in the early
seventies, which then cut directly to a live performance in the eighties where she
accompanied herself on the guitar. When playing this arrangement, I use a slow,
'scratch and slap' kind of strumming, in the style of Woodstock from the Shadows And
Light live album.