I Had A King
Guitar chords transcribed by Mia Ortlieb
Tuning: DADDAD (other transcriptions in this same tuning)
"Joni" Tuning: D75075
Tuning pattern: x75075 (others in this same pattern)
Capo on fret 7

Download/View Transcription (PDF)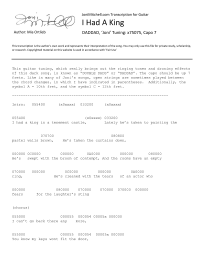 Author Notes:
This guitar tuning, which really brings out the ringing tones and droning effects of this dark song, is
known as "DOUBLE DADS" or "DADDAD". The capo should be up 7 frets. Like in many of Joni's songs, open
strings are sometimes played between the chord changes, in which I have indicated in parentheses.
Additionally, the symbol A = 10th fret, and the symbol C = 12th fret.