Download/View Transcription (PDF)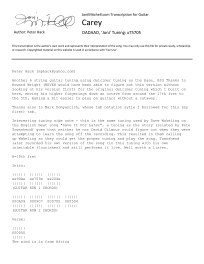 Author Notes:
Peter Hack [mphack@yahoo.com]

Another 6 string guitar tuning using dulcimer tuning as the base. BIG Thanks to Howard Wright (NEVER would have been able to figure out this version without looking at his version first) for the original dulcimer tuning which
I built on here, moving his higher fingerings down an octave from around the 17th fret to the 5th, making a bit easier to play on guitars without a cutaway.

Thanks also to Mark Domyancich, whose tab notation sytle I borrowed for this (my first) tab.

Interesting tuning side note - this is the same tuning used by Dave Wakeling on the English Beat song "Save It For Later", a tuning as the story (related by Pete Townshend) goes that neither he nor David Gilmour could figure out when they were attempting to learn the song off the recording. This resulted in them calling up Wakeling so they could get the proper tuning and play the song. Townshend later recorded his own version of the song (in this tuning with his own inimitable flourishes) and still performs it live. Well worth
a listen.