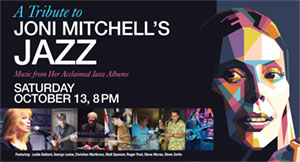 The Joni Mitchell Jazz Tribute.
Edmond Town Hall
Newtown, CT.
October 13, 2018 at 8:00pm.
Wine bar and doors open 7:00pm.
This seven-member group features Leslie Ballard (vocals, flute), Steve Zerlin (bass), Roger Post (drums), Christian Martirano (keyboards), Steve Moran (sax, clarinet), George Lesiw (guitar), and percussionist Matt Spencer. Playing music from her critically acclaimed jazz albums: Shadows & Light, Hejira, Mingus, Miles of Aisles, Court & Spark, and The Hissing of Summer Lawns.
Videos and a slideshow of Joni's masterful paintings are a beautiful backdrop to this live performance. All proceeds benefit Town Hall Restoration Fund. RESERVED SEATING. ADVANCE PURCHASE RECOMMENDED. Tickets $20, More information here.