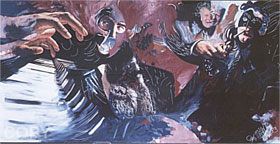 1983
5 x 10 Abstracted Realism Collage/Acrylic on Canvas
This painting currently hangs at the University of Judaism.
The Nucleus Nuance was (and maybe still is) a restaurant/club in West Hollywood on Melrose. They had one or two of her large paintings there in the early '80's as I recall. (Thank you to Carol for this information!)
Tom Rosenberger writes: The former owners of the Nucleus had possession of it after the club was sold in 1993 and then rescued it when the club closed soon after in 1994. I used to manage the place and am still friends with the owner and we tried for years to find a buyer for it. No one was interested. Finally, a few years ago, the owner re-married and her husband suggested that she donate it (to the museum). Joni has been a friend of the owner since the 60's (they are both from Canada). So that's how the painting found its new home.
In 2001 this painting was seen on eBay. The seller's description: UP FOR AUCTION IS AN ORIGINAL WORK OF ART BY SONGWRITER, SINGER, MUSICIAN, POET AND PAINTER, JONI MITCHELL — ONE OF THE MOST IMPORTANT ARTISTS OF HER GENERATION. THE STORY: THIS WORK BY MS. JONI MITCHELL IS ENTITLED, "NIGHTTIME AT THE NUCLEUS" AND WAS CREATED BY THE REVERED ARTIST IN 1983. IT IS NOW BEING MADE AVAILABLE AT AUCTION HERE AT THE WONDERFUL EBAY FORUM AND IS FROM THE PRIVATE COLLECTION OF THE ORIGINAL OWNER OF THE NUCLEUS NUANCE. SOME OF YOU MAY RECALL THE NUCLEUS NUANCE NIGHTCLUB; FOR THOSE WHO DON'T, SOME BACKGROUND ABOUT THIS L.A. NIGHTSPOT IS IN ORDER: THIS WAS AN EXTRAORDINARY AND LEGENDARY MELROSE AVENUE NIGHTCLUB IN HOLLYWOOD, CALIFORNIA FAMOUS FOR DINING, DANCING AND MOSTLY ITS LIVE JAZZ MUSIC; IT ENJOYED COUNTLESS AMAZING NIGHTS FROM 1973 UNTIL IT CLOSED ITS DOORS IN 1993. THE NUCLEUS NUANCE THRIVED DURING A TIME WHEN NIGHTCLUBS WERE NOT TO BE "FRANCHISED"; IT WAS AN AUTHENTIC HAVEN FOR NIGHTCLUB GOERS, MUSIC LOVERS AND MUSICIANS ALIKE — A PLACE REGARDED AS A RELIABLE RETREAT INTO THE ADVENTURES OF THE NIGHTLIFE — THE NUCLEUS NUANCE STANDS AS AN ORIGINAL. I FEEL IT IMPORTANT TO MENTION THIS BECAUSE JONI MITCHELL WAS SO COMFORTABLE; SO AT HOME AT THE NUCLEUS; AND SHE SPENT SO MANY EVENINGS THERE, THAT JONI WAS INSPIRED TO PUT HER ENERGIES INTO CREATING THIS POWERFUL, MASTERFUL ARTWORK FOR THE NUCLEUS NUANCE NIGHTCLUB. THUS, THIS WORK IS, IN LARGE PART, A DOCUMENT OF AND TRIBUTE TO THE IMPORTANCE OF A CREATIVE HAVEN/ATMOSPHERE/ENVIRONMENT THAT CAN ONLY BE ENGENDERED IN A SPACE LIKE THE NUCLEUS NUANCE - INDEED, SHE COULD FIND HER MUSE AT THE NUCLEUS AS DID SO MANY OTHERS.
THE LIST OF IMPORTANT AND POPULAR MUSICIANS THAT FREQUENTED AND "JAMMED" AT THE NUCLEUS IS SIMPLY INCREDIBLE; REGULARS INCLUDED HERBIE HANCOCK, WAYNE SHORTER, NINA SIMONE, GEORGE DUKE, SARAH VAUGHAN, TONY BENNETT, SLASH OF GUNS AND ROSES, STING AND PRINCE — JUST TO MENTION SOME.TECHNICAL NOTES ON THE ARTWORK:TITLE OF WORK: "NIGHTTIME AT THE NUCLEUS"ARTIST: JONI MITCHELL 1983 COLLAGE/ACRYLIC ON CANVAS DIMENSIONS: 5' X 10'
NOTES ON THIS WORK BY JONI MITCHELL: THIS ASTONISHING PAINTING WAS INSPIRED BY THE MANY EVENINGS JONI SPENT AT THE NUCLEUS NUANCE; THE WORK WONDROUSLY AND BRILLIANTLY FINDS ITS WAY AROUND THEMES OF DARKNESS, INSPIRATION, IDENTITY AND SOULFULNESS. JONI'S RESOURCES FOR THIS WORK ARE AS INSPIRED AS THE WORK ITSELF: JONI CUT OUT SEVERAL PHOTOS FROM A CIGARETTE BILLBOARD ADVERTISEMENT AND THEN COMMITTED THESE PHOTOS TO CANVAS. SHE THEN WENT TO WORK PAINTING OVER THE PHOTOS AND AROUND THEM TO CREATE WHAT YOU SEE BEFORE YOU — THIS AMAZING AND ARRESTING MASTERFUL WORK OF ARTPHOTOS FROM THE CLUB CIRCA 1990: I HOPE YOU ENJOY THE PHOTOS HERE PRESENTED OF SOME OF THE REGULAR ARTISTS WHO WOULD FEQUENTLY STOP BY TO "JAM" AT THE NUCLEUS WHILE, NO DOUBT, INSPIRED BY JONI'S ARTWORK. THE MUSICIANS INCLUDED IN THESE PHOTOS ARE — LEE OSKAR, SLASH, WAYNE SHORTER, HERBIE HANCOCK, LARRY KLEIN, DAVID WHITFIELD JOHN GUERIN, HARRY DEAN STANTON, GEORGE BENSON, TEDDY EDWARDS AND OF COURSE TWO OF THE, THEN, ELDEST LIVING ABORIGINAL ARTISTS FROM AUSTRALIA OF THE "DREAMTIME STORY TELLERS" FAME.