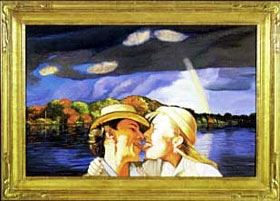 2000
Late Figurative, Neo-Classicism Oil on canvas
Painted to accompany the release of 'Both Sides Now' - featured Joni kissing Donald Freed.
(from Joni Mitchell Paintings Interview of Joni Mitchell by Rene Ingle © KCSN-FM December 21, 1999)
JM: This is not a 40's kiss, you know, but also the landscape because in the old songs. Emotions are described by clouds coming and going, you know, "hmmm, the sky is blue, the sky is grey." "Stormy Weather" -- so much of the old songs -- I mean even Clouds, "Both Sides, Now," which was one of my first songs begins with clouds because, as a young songwriter, I thought you have to deal with clouds in songs. They always stick a cloud in or take it out. So I thought, let's get the clouds of the way in the first stanza. So, anyway, this has got a lot of assorted clouds. You've got the dark cloud and then you've got, like, these little Budgie birds, these little innocent pink birds kind of flirting with each other up there, and then the sky is opening out and, God forbid, there's a hippie rainbow coming down (laughs).