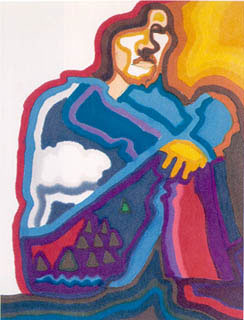 1969
8 x 10½ in Early Figurative Felt pen
Joni's comments from the StarArt book: "I remember doing this drawing; it was in Laurel Canyon behind our house. It was spring and the grass was very green. We had a picnic and it was very calm. The cloud in him was the sorrow of knowing that we wouldn't go on living together forever, like we had planned. He knew it too so that was kind of an impending cloud that we both shared. Yet, externally you see the sun pushing on him; so it was like the sun outside and the rain inside."
This piece was featured on the back cover of Graham's album "Wild Tales".
Michael Bilz, who emailed me about this painting, has had it confirmed from the Rock and Roll Hall Of Fame, that this painting is hanging up in the Main Exhibit Hall in the Rock and Roll Hall of Fame and Museum in Cleveland. Should you wish to see the painting it is in the 'Los Angeles' section.