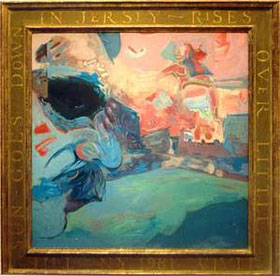 1981
46 x 46 x 3 in Abstracted Realism Acrylic on canvas
(From Diary ofa Decade Exhibition catalogue 1990)
Joni Mitchell's interest and development in the surfaces of her paintings was accelerated by her exposure to the work of the American sculptor Nathan Joseph (his profile appears in the painting entitled 'Up On The Roof' 1981). Joseph rented the studio underneath his own in New York to Joni Mitchell. At the time Joseph was experimenting with rubbing coloured pigments onto the surface of his metal sculptures, a process which produced a range of different effects on the patina of the metal.
Also known as 'The Sun Goes Down In Jersy, Rises Over Little Italy'.
According to the 'Diary of a Decade' catalogue the portrait is of the Indian born American sculptor Nathan Slate Joseph whose New York studio he rented out to Joni Mitchell.
(from Natural Man - Blue Sand - by Deborah Scott, 2002).
He becomes charmingly befuddled when questioned about his collectors.... Then there's Joni Mitchell a former roomate of his in his ten thousand square foot Hudson Street rooftop loft. Jospeh had too much space and was introduced to Joni by a mutual friend who knew she neededstudio space for her art. Though this was the late 70's Joseph hadn't heard of the chanteuse.
"I guess she was a folk singer and I wasn't really into that."
Still, the two became "buddies". He happened to be living with up-and-coming starlet Ellen Barkin at the time, and she is one his most ardent collectors. Not only that, Joseph believes that he influenced Joni Mitchell's own art.
"Before she met me, she never worked abstractly," he says.